12 Dead, Thousands Evacuated as Flooding Hits 17 Provinces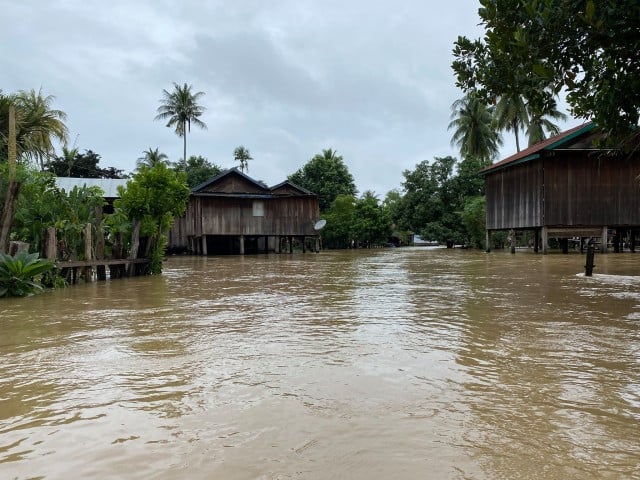 Phoung Vantha
October 14, 2020 10:52 AM
With 17 provinces, including the municipality of Phnom Penh, inundated with floodwaters after days of heavy rainfall, 12 people have died and thousands more evacuated.
PHNOM PENH--Cambodia is assessing the damage after 17 provinces have been hit by severe flooding, killing 12 people and displacing a further 110,000.
As of Oct. 14, Banteay Meanchey, Battambang, Kampong Chhnang, Kampong Cham, Kampong Speu, Kampong Thom, Kandal, Koh Kong, Mondulkiri, Pailin, Pursat, Preah Sihanouk, Preah Vihear, Stung Treng, Svay Rieng and Takeo provinces, as well as the municipality of Phnom Penh have been affected by floodwaters.
The flooding situation along Stung Prek Thnot in the southwest of Phnom Penh, and in Kandal Province has reached an emergency situation, according to the Kandal Provincial Administration.
Kandal authorities said that the water is as high as 9.2 meters in the worst affected areas, well above the precautionary level of 7 meters. Authorities in Kandal have appealed to people living in Ang Snuol District, Kandal Stueng District and Ta Khmau City to remain vigilant and be careful.
Meanwhile, flooding affected 1,281 families living in 12 communes of Dangkor District in Phnom Penh, with large parts of the capital still inundated with floodwaters.
Late at night on Oct. 13, a reservoir in Kampong Speu Province burst, unleashing its capacity of 5 million cubic meters of water after it was overwhelmed by the rainfall.
Kampong Speu Provincial Governor Vei Samnang appealed to people living in Chbar Mon City and Samraong Tong to more careful as authorities predict more flooding from 4 p.m. on Oct. 14. Samnang advised people ready their luggage and find a safe place as soon as possible.
Authorities in Banteay Meanchey Province evacuated more than 1,600 inmates as the provincial prison flooded. The Ministry of Water Resources and Meteorology said to expect more rain between Oct. 16 and Oct. 20, adding that even if the rain is minimal, the floodwaters will take at least five days to subside.
The National Committee for Disaster Management has, as of Oct. 14, tallied the death toll at 12—including five children—with some 160,000 people affected by the flooding. Of those 160,000, roughly 110,000 needed to be evacuated.
The committee added that nearly 400,000 homes were affected, with 30 damaged and more than 400 schools flooded. More than 110,000 hectares of rice and more than 55,000 hectares of other crops were damaged or destroyed.
Nearly 200 kilometers of roads, including national, provincial and red gravel roads have been washed out, with 24 bridges currently inoperable. National Roads 3 and 5 are believed to be among the major roads affected.
In the face of this emergency, Prime Minister Hun Sen took to Facebook where he said that the government had received some $5.2 million from around 33 tycoons. The money would be spent on helping people affected by floods, Hun Sen said.
Meanwhile Kem Sokha, the former opposition leader still on trial for treason, has paid a visit to Battambang where he has been seen donating food and other emergency supplies to those worst affected by the flooding.
Related Articles