17,000 Garment Workers to Lose Jobs as 30 Factories Suspend Operations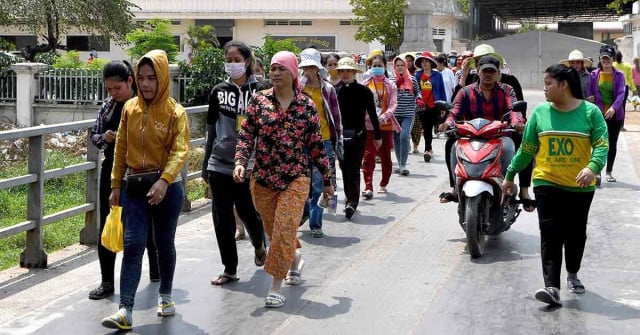 Phoung Vantha
March 4, 2020 11:16 AM
The Ministry of Labour has announced it has received 30 requests to temporarily suspend operations, with more factory closures feared in the near future.

PHNOM PENH--Around 17,000 garments worker are set to lose their jobs as more than 30 factories have submitted requests to the Ministry of Labour and Vocational Training for their temporary suspension, according to Ath Thorn, president of the Coalition of Cambodian Apparel Workers' Democratic Union (CCAWDU).

He explained that those factories are not halting 100 percent of their operations, just some of their production chain. "Some factories will be suspended for two weeks, others just one month," he said, adding that he remains concerned about future closures that are yet to be announced.

The Cambodian government recently announced that it will be paying 60 percent – roughly $120 – of the monthly minimum wage for those garments workers who are affected by the factory closures. This reduced salary will be comprised of payments from both the government and the factory owners, with the government providing 20 percent and factories supplying the remaining 40 percent. The stipulations required for this payout is the enrollment of garment worker for training with the labor ministry.

Thorn said that the garment sector still faces a lot of challenges and for some workers, it's not always possible for them to attend these classes necessary to access their reduced salaries. He suggested that if the ministry helps with transportation and food costs, it might help ease their costs and they may enroll.

Spokesperson for the Ministry of Labour and Vocational Training, Heng Sour could not be reached for comment on March 4.

In Sihanoukville, there were two factories that produce shoes and bags who have suspended production for the past two months due to lack of raw materials, Yow Khemara, director of the Department of Labour and Vocational Training at Preah Sihanouk province told ThmeyThmey recently.

The Cambodian government has announced that it will not collect a half-year or a year-long tax from factories affected by a lack of raw materials as the COVID-19 outbreak continues to disrupt Chinese supply chains. The knock-on effect has raised questions about Cambodia's need to diversify, both in terms of economic products and strategic partners.
Related Articles