65 Years on, Cambodia-China Ties Reach New Heights: Senior Gov't Official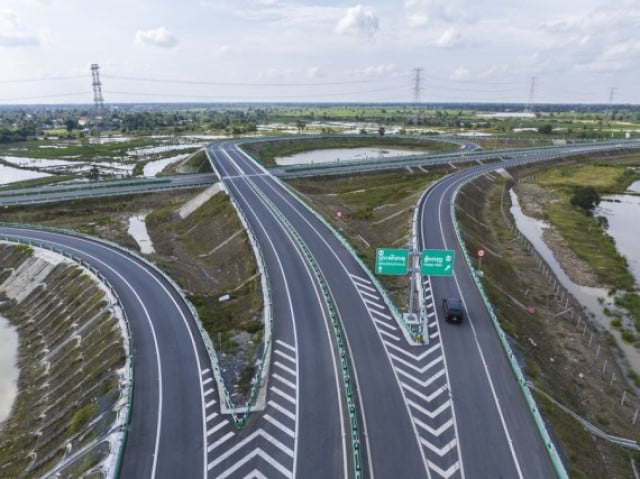 PHNOM PENH -- The bilateral "diamond hexagon" cooperation framework has elevated Cambodia-China ties to new heights as the two countries celebrate the 65th anniversary of diplomatic relations, a Cambodian senior government official said.
Cambodian government chief spokesman Phay Siphan said mutual strategic trust, support, and respect for territorial integrity and sovereignty, non-interference and win-win cooperation have boosted the ironclad friendship between both countries even stronger and unbreakable.
"The two countries have always moved ahead together rain or shine thanks to close ties and cooperation," he told Xinhua in a recent exclusive interview.
Siphan said the bilateral "Diamond Hexagon" cooperation framework, established by both countries in February, would boost the building of the Cambodia-China community with a shared future in the new era.
The framework has been focused on six priority areas, including political cooperation, production capacity and quality, agriculture, energy, security and people-to-people exchanges, he said.
"Our bilateral relations have been subsequently elevated from one level to another, reaching higher and higher," he said.
"This framework is another foundation to further solidify the Cambodia-China friendship," he said.
As 2023 marks the 10th anniversary of the China-proposed Belt and Road Initiative (BRI), Siphan said the initiative has provided tremendous benefits to Cambodia's socioeconomic development and poverty reduction.
"Under the BRI, Cambodia has received a lot of benefits and the whole ASEAN has considered the BRI as a foundation for social development in our region," he said.
He said the BRI has promoted peace, international cooperation and development and that the initiative has neither created enmity towards any country nor blocked the development of others.
"Under the BRI, no country in the region have been isolated, but they have been connected, linking Asia, ASEAN with China, which is a huge market with a population of over 1.4 billion," Siphan said.
He said under the BRI, many mega-projects such as hydropower plants, the Sihanoukville Special Economic Zone, the Phnom Penh-Sihanouk Expressway, the Morodok Techo National Stadium, the Siem Reap-Angkor International Airport and the Phnom Penh-Bavet Expressway have been carried out in Cambodia.
"These mega-projects have importantly contributed to accelerating sustainable socioeconomic and tourism development in Cambodia," he said.
The BRI, a reference to the Silk Road Economic Belt and the 21st Century Maritime Silk Road, was initiated by China in 2013 to build trade and infrastructure networks connecting Asia with Europe and Africa on and beyond the ancient Silk Road trade routes.
According to official statistics, 151 countries and 32 international organizations have signed documents under the BRI framework as of Jan. 6.
Siphan said the Regional Comprehensive Economic Partnership (RCEP) and the Cambodia-China Free Trade Agreement (FTA), effective since 2022, have greatly boosted Cambodia's export and economic recovery in the post-pandemic era.
According to the General Department of Customs and Excise, Cambodia's export to China was valued at 713.2 million U.S. dollars during the January-June period of 2023, an increase of 16.6 percent from 611.5 million dollars over the same period last year.
Siphan said the two pacts are a magnet to attract more foreign investors, especially from China, to the country.
"These trade pacts will help Cambodia graduate from its least developed status by 2027 and become an upper-middle-income country by 2030 and a high-income nation by 2050," he said.
Siphan said all these cooperation mechanisms have provided vigorous momentum to the building of a high-quality, high-level and high-standard China-Cambodia community with a shared future in the new era.
Related Articles