A Cambodian Student Creates a 21th Century Version of the Traditional Chapei Music Instrument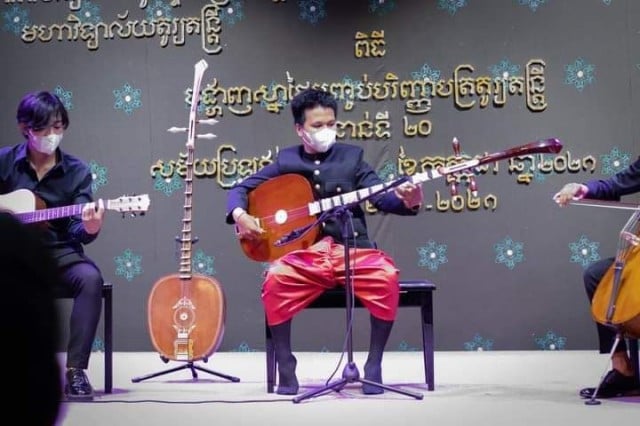 While retaining all the characteristics of the Cambodian famed instrument, Sam Vathanak's chapei vivath can be used to perform western as well as Cambodian traditional music.
PHNOM PENH--This school year, only one student has graduated from the Royal University of Fine Arts (RUFA) with a bachelor's degree in chapei dang veng—the musical instrument of one of the rare Cambodian artforms to be inscribed on the UNESCO Intangible Cultural Heritage of Humanity list.
Sam Vathanak obtained on July 26, 2021, a bachelor's degree in chapei dang veng having, as his thesis during his fourth year at university, created a new chapei instrument with tones adapted to both Cambodian traditional and Western music.
He named the instrument chapei vivath.
"The chapei vivath looks exactly like a chapei dang veng," Vathanak said. "I only adjusted the key tone levels to match foreign tones so that it can be played along with foreign instruments. The traditional chapei pitches have tones of national accents and emphasize our color without being able to play Western accents.
"So, I preserved the appearance and developed tones," he said.
Closely linked to people's customs and beliefs in Cambodia, a chapei dang veng performance can be staged by a single or several artists in styles going from storytelling to drama. This can involve monologues and songs, the texts ranging from educational and social commentaries to satires told in classic poetry, folktales or Buddhist parables. This traditional artform was inscribed on the UNESCO's list during a meeting in Addis Ababa, Ethiopia, in November 2016 .
A Cambodian in his mid-20s with a passion for Cambodian traditional music instruments
Vathanak could be described as crazy about music. He can play more than 10 traditional instruments including the roneat ek, roneat thong, roneat deik, kong vong thom, kong vong toch, chhing, skor, sampho, hand drums, flutes and the chapei dang veng.
A former pin peat—mainly wind and percussion instruments—music teacher at the Champey Academy of Arts in Phnom Penh, he decided to pursue a bachelor's degree at RUFA because he wanted to play a role in making Cambodia's traditional music better known and also wanted to study music in a formal university context, he said.
"I first learned music from the Apsara Arts Association [an NGO that includes RUFA and other arts and music teachers] ," Vathanak said. "At that time, I learned classical dance, traditional dance and lakhaon kaol [dance], but I chose to specialize in music. I did not think a degree in music from the organization was enough. I wanted a bachelor's degree that is widely recognized.
"I also wanted to understand music theory and the language of music," he said. Vathanak never regretted his decision. Pursuing a bachelor's degree in music also enabled him to grasp and learn Western styles of music. Moreover, learning to write music enables Cambodian musicians to write down Cambodian traditional music as documents for generations to come, he said—Cambodian traditional music has usually been transmitted orally with no written records.


Putting Cambodian music instruments into the limelight
As Vathanak explained, by creating his chapei vivath, he also meant to show the versatility of Cambodian traditional instruments. The chapei dang veng and other traditional music instruments should not only be used for traditional music but also to play foreign music, he said. Doing so would also make the public discover Cambodian musical instruments, he added.
However, there are technical considerations, Vathanak explained. For example, one can only play whole tones on Cambodian traditional instruments while there are whole and half tones in foreign melodies, he said. Moreover, Cambodian traditional instruments do not that many sounds.
So Vathanak designed his chapei vivath to play eight or nine more key tones so that it can play both Cambodian traditional and foreign music, he said.
At first, Vathanak planned to create a lute that would play the chromatic scale as his graduation project. However, after discussing with his teacher who used to perform with foreign orchestras, Vathanak decided to create his chapei vivath with more tones.
"My teacher already had plans to create a chapei that can be played to perform foreign music," he said. "Since I also had a plan to create a new chapei as my graduation project, my teacher helped me to create this new chapei vivath."
An Uncertain Future for Musicians of Traditional Music Instruments
As part of his thesis, Vathanak intends to hold a presentation on his chapei vivath and also compile in a publication information on the instrument and the tones it can play, which requires a thorough explanation, he said.
He also would like to collaborate with other musicians and songwriters to compose songs that can be performed with his chapei vivath. At RUFA, songs will only be written if his teachers are interested in incorporating his chapei vivath in a composition project.
In the meantime, Vathanak will also try to compose music so that he, as well, can write music for his chapei vivath.
As for his career, he hopes to work in an institution—if possible a government institution—in which he could use his skills, one of his goals being to contribute to bringing traditional and classical music instruments and orchestras into the 21st century.
In the meantime, the lack of recognition and work opportunities for traditional-music musicians make this field rather unattractive for students.


According to Hang Rithy Ravuth, associate dean of the Faculty of Music at RUFA, Sam Vathanak is the only student to have chosen chapei dang veng since as this was established as a major in 2017. "Only Vathanak has studied in this chapei specialized major," he said. "We have put the chapei instrument as an elective course, but only 15 students have chosen that."
Still, students do show an interest for chapei dang veng, Ravuth said, adding that those who take the course must study hard as they have but a short course to do so.
At this point, the two chapei dang veng teachers at RUFA are highly-qualified musicians but without university degrees, Ravuth said.
"We don't have a chapei teacher who holds a bachelor's degree in the state framework yet," he explained. "We can let them teach because we follow the theory: 'The wise teaches the ignorant.'"
Asked whether there would be the work opportunities for a graduate student in chapei dang veng in the Cambodian government structure in view of the shortage of specialized teachers in the field, Ravuth said that he could not say as this depended on the requirements set for the civil servant recruitment examination.
However, students with musical specialty who manage to pass the state civil servant examination will only work in administration at the Ministry of Culture and Fine Arts unless they can pass the exam required to work at state universities, he said.
Based on his observation, people with specialized knowledge but limited foreign-language skills—such as English—rarely pass the state exam. On the other hand, those with good foreign-language skills but average specialized skills will pass the exam, he added.
Still, in spite of the uncertain future for Cambodian traditional musicians, Sam Vathanak appealed to students to study Cambodian traditional instruments as they are threatened to no longer be seen and played.
This is his biggest concern, Vathanak said. "They should learn to play instruments that are rarely played and are rare," he said. "If there are no people learning, our Cambodian [traditional] music sector will move toward disappearing."
Additional reporting by Teng Yalirozy
Related Articles