A Campaign to Promote the Use of Electric Vehicles Is Held this Month in Phnom Penh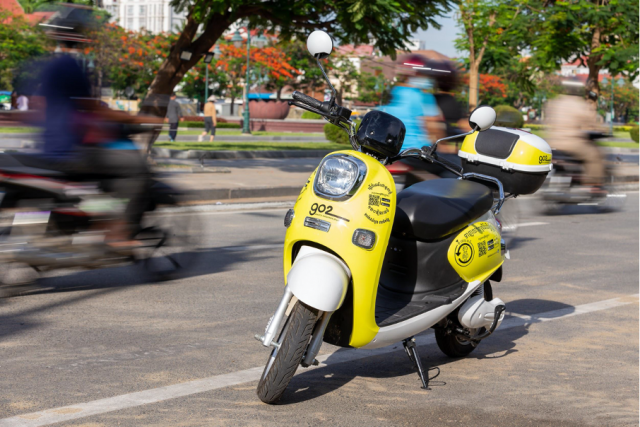 Sao Phal Niseiy
February 7, 2021 3:58 AM
This will include a series of events through Feb. 25
PHNOM PENH--The first Sustainable e-Mobility Campaign is taking place this month in Phnom Penh with "Free-to-drive electric vehicles" pop-up events held to promote​​ awareness of electric vehicles and reducing greenhouse gas emission.
Organized by the NGO EnergyLab Cambodia in cooperation with the Global Green Growth Institute and the National Council for Sustainable Development, the campaign will feature electric vehicles during a series of public events through Feb. 25.
Melissa Liu, EnergyLab country manager, said that the campaign is meant to offer people an incentive as well as an opportunity to try electric vehicles including electric motorbikes, bicycles, cars and scooters.
"Not everyone is familiar with electric vehicles, but once you drive an electric vehicle you realize that it's actually really cool and fun," Liu said. "Our pop-up events bring together many brands so more people can access and try them out for free."
Following the launch of the campaign that took place at Factory Phnom Penh on Feb. 6, events will be held at the Ministry of Environment on Feb. 9, the Olympic Stadium on Feb. 20, the Institute of Technology of Cambodia on Feb. 23, the campaign ending on Feb. 25 with an event at the American University of Phnom Penh.
The events will also highlight the fact that the use of more eco-friendly vehicles also contributes to reducing global warming through decreasing greenhouse gas emission in transport.
More people interested in electric vehicles
In recent years, there have been a significant increasing in the number of people using electric vehicles globally. According to the International Energy Agency report, the number of electric vehicles used worldwide has dramatically increased, reaching 7.2 million.
In Cambodia, however, few people use electric vehicles although, Liu said, Cambodians are becoming more interested in them.
"We are seeing more people…using electric vehicles in Cambodia," she said. "Prices for purchasing electric vehicles have dropped significantly due to improved battery technology and the cost to run," Liu said, adding that people remain cautious about the technology of the vehicles.
However, electric vehicles are now less expensive than their petrol counterparts, making them interesting options, she said. "There are all kinds of electric vehicles in Cambodia and there's even an electric motorbike-sharing system called Go2, making electric vehicles accessible for those who don't want to purchase their own electric vehicle."
When asked what challenges the country faces when it comes to introducing electric vehicles, Liu responded that the price of vehicles is one issue. "Cost is often seen as a challenge when it comes to electric vehicles. Just like with petrol vehicles, there is a range of electric vehicles available at different price points.
"Electric vehicles may be slightly more expensive to purchase, but the ongoing cost is very low," she said.
In addition to the price, users' confidence in the technology is important, and this requires quality control and standards to ensure the imported vehicles are of high quality, especially when it comes to batteries, Liu stressed.
The Cambodian government's role to support the use of electric vehicles
The Cambodian government has been looking into how electric vehicles can be integrated into the country's transport system, Liu said.
"The National Council for Sustainable Development has been working with the Global Green Growth Institute to promote electric vehicles under the Green Climate Fund since 2019," she said. The Cambodian government is, she added, "one of the many government bodies that recognize the importance of electrifying transport."
Policy initiatives in other countries have included, Liu said, phasing out petrol vehicles through subsidizing the purchase of electric vehicles, reducing taxation and other costs for these vehicles, investing in public charging stations and specific infrastructure to benefit drivers.
"An important first step for the government would be to incentivize lower-emission transport and using any incentive as a way of supporting quality control of imported electric vehicles—both for new and second hand in the 'grey market'—to ensure confidence in the product and minimize battery waste," Liu concluded.
Related Articles