A Community Watching over Cambodia's National Bird Hopes to Attract Cambodian Visitors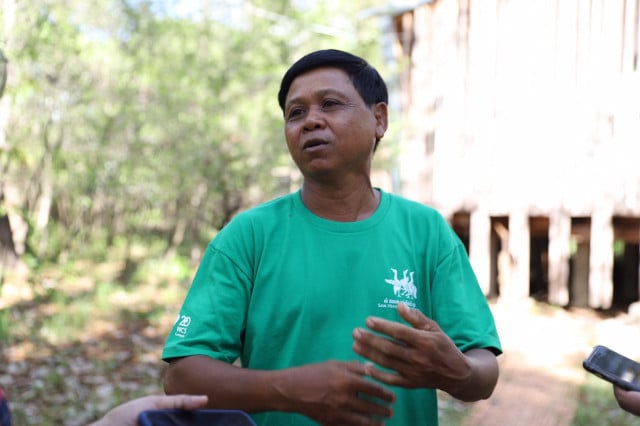 Ou Sokmean
July 10, 2020 9:30 AM
Protectors of the endangered giant ibis in Preah Vihear Province, its people depend on tourism

Preah Vihear--The Tmat Paeuy or Tmatboey Ibis community is now striving to draw domestic tourists in order to subsist amidst the Novel Coronavirus pandemic (COVID-19), which has led to a sweeping decline in foreign birdwatchers.

Spreading over 1,700 hectares, this ecotourism community is located in the Kulen Promtep Wildlife Sanctuary in Preah Vihear province in the northwestern part of Cambodia.

Established in 2005 as an ecotourism project, Tmatboey has attracted each year bird watchers and other foreign tourists eager to see some of country's rare birds such as the giant ibis and the white-shouldered ibis in their natural habitat.
Tourists ride on a two-wheel tractor trailer to watch birds and wildlife. Photo by Ou Sokmean

However, just like other sectors that have been affected by the pandemic this year, the Tmatboey community, which had long been known for its successful model of sustainable local economy while conserving Cambodia's rare bird species, has recently seen its future in limbo.

Zero Foreign Tourists Due to the Pandemic

Whereas over the last 10 years, the community has usually greeted up to 100 foreign visitors per month, tourist arrivals have dropped to zero over the last months.

"Our community used to receive between five to eight groups of foreign tourists each month—each one consisting of at least three members," said Doep Kim Uon, the head of the Tmatboey community. "Sometimes, we have not even had enough space to accommodate them.

"Now, there has been absolutely no tourist arrival to our community," he said.

According to Kim Uon, foreign tourists, who wishes to visit the Tmatboey community, purchase an all-inclusive package, which starts around $100

"Each package includes accommodation, three meals a day, local transportation, tours to watch the rarest giant ibises and other birds, as well as a $10 donation for bird conservation," he explained.

These tourists' visits have been driving the local economy, which supports the community consisting of 60 families, Kim Uon said.

In recent years, the Tmatboey community has generated annually around $10,000 through tourism. Last year, revenues jumped to more than $30,000, Kim Uon said. This enabled the community to spend on development such as renovating the eco-lodges and improving the infrastructure, he said.

Turning to Domestic Tourism to Survive

With the local economy so dependent on foreign tourists, which have stopped coming due to COVID-19, the Tmatboey community has been looking for ways to attract domestic visitors as a way to survive until the return of foreign tourists—especially since no one really knows when this may happen.
With this in mind, the community has worked on several projects including preparing homestays and tourist sites so they can appeal to Cambodians even though until now, bird-watching tours have not been popular among local visitors, Kim Uon said.

"We are preparing new projects that specifically target domestic tourists and we, in cooperation with partners and the local authorities, will begin our promotion campaign at the end of this month [July], hoping to soon attract [them]," he said.

While Cambodian visitors have so far not been charged for visiting the community, Kim Uon expects that the community will be able to manage since visitors who come to the community usually spend on accommodation, transportation, birding trips as well as other services.

In the meantime, Kim Uon stressed, the community has come to understand the importance of protecting wild animals as this ecotourism project has remarkably contributed to their wellbeing by providing them with sustainable monthly income and enabling community development.

"If we hunted down one animal while others hunted two or three, it would cause an extinction of wild animals," he said. "Therefore, hunting wild animals is not different from destroying money—our income."


With 14-year of experience in wildlife protection and conservation, Kim Uon said that he has really been motivated to keep doing this work in ecotourism as this gives him the opportunity to help foreign tourists learn about Cambodia's wild animals and especially the highly-endangered national birds such as the giant ibis.

"Whenever I bring [tourists] to visit our animals here, I see their excitement and they usually promise to come back," Kim Uon said. "Their cheerfulness at that moment, curiosity as well as their eagerness to know our animals have kept inspiring me to keep going and working in this sector."

The giant ibis, which was listed on the International Union for Conservation of Nature Red List as a critically endangered species, was designated as Cambodia's national bird in 2005. It went unrecorded for more than 50 years until it was rediscovered by Wildlife Conservation Society (WCS) researchers in 1993.

Currently, the population of giant ibises in the country is estimated to be less than 300 individuals.
Related Articles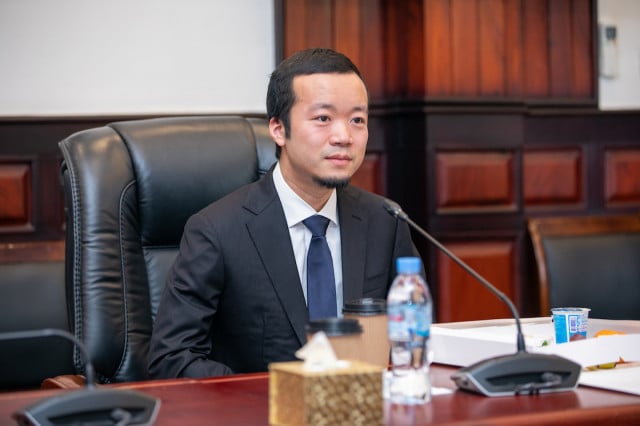 September 8, 2021 12:23 PM