The First Case of COVID-19 Affecting a Cambodian is Confirmed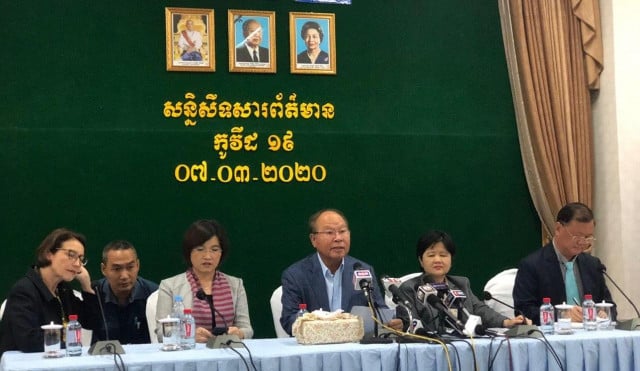 Sao Phal Niseiy
March 7, 2020 3:52 PM
The health authorities take measures to prevent the disease from spreading locally

PHNOM PENH--A 38-year-old Cambodian man in Siem Reap City tested positive for the Coronavirus Disease 2019 (COVID-19) after having been in direct contact with an infected Japanese national, the Ministry of Health announced Saturday evening at a press conference.

"As of March 7, we received the results from the Pasteur Institute, which indicated that a 38-year-old Cambodian man—who is among four people who had direct contact with the infected Japanese national—tested positive for COVID-19," Health Minister Mam Bunheng said.

The health authorities tested the sputum from these four people after they were identified to have had direct contact with this Japanese man who tested positive for the COVID-19 when he arrived in Japan on March 4.

The 40-year-old Japanese businessman is thought to have arrived in Cambodia on Feb. 16 after travelling to Vietnam and the Philippines. A resident of Siem Reap City, he apparently visited a hospital in Cambodia for a check-up before leaving the country on March 3.

During the press conference, Bunheng said that 40 unidentified individuals must remain in self-isolation at the health authorities' request as they are believed to have come into indirect contact with the Japanese national. They have been asked to monitor their health at home and report to doctors any symptoms they may experience.

Measures taken to limit public gatherings and possible contamination

While urging the public not to panic and to follow basic hygiene habits in order to prevent the spread of the COVID-19, Bunheng said that the government has decided to order schools in Siem Reap City to close for 14 days. The Ministry of Education, Youth and Sport released a statement Saturday to the effect that all the city's education institutions, from kindergarten to university level, are closed until further notice.

The traditional Siem Reap Sangkranta celebration will also be cancelled; it was scheduled to take place during the second week of April as part of the Khmer New Year celebrations.

Bunheng said that the Ministry of Health will continue to work closely with its healthcare partners and the local authorities to ensure that the infection does not spread in Siem Reap Province and to help build public trust in the country's healthcare system.

WHO recommends that people relax and keep informed
During the press conference, Li Ailan, head of the World Health Organization (WHO) in Cambodia, echoed the health minister's statement calling upon the public to remain calm.

"For now, the advice for the public to remain safe: Stay calm and utilize the official sources of information to exercise precautious measures," she said. "That is the best way to stay alert to protect [yourself]….staying calm is a very important contribution to our fighting against the new disease."

Ailan also praised the Ministry of Health's response management when the possibility of COVID-19 contagion occurred. "WHO is very pleased to see that Cambodia does have a functional health system to detect and to respond quickly [to the first case in Siem Reap]," she said.

The COVID-19 patient is in good condition

During the press conference, Health Ministry Spokesman Or Vandine told reporters that the Cambodian patient who contracted the disease is doing well.

"The 38-year-old Cambodian man, who tested positive for the COVID-19, is in normal health condition," Vandine said. "As I visited him yesterday [March 6], he told me that he has no health problem at all."

"He has been found to have worked closely with the infected [Japanese national], much closer than the other three [persons]," who also were in direct contact with him, she said. The three other individuals will remain under quarantine for 14 days even though they tested negative for the COVID-19, Vandine said.

While he is the first Cambodian to be infected with the coronavirus, this patient is the second one to catch the disease in the country. On Jan. 27, a 60-year-old Chinese man tested positive for COVID-19 when he arrived in Preah Sihanouk Province on a flight from China. He fully recovered and was discharged on Feb. 10.
Related Articles
November 29, 2021 5:59 PM