A Gas Explosion in a Retail Shop Causes the Death of Four People in Phnom Penh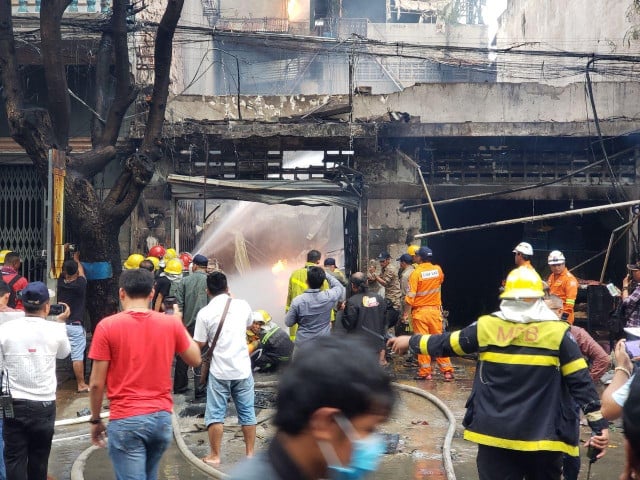 Sao Phal Niseiy
July 18, 2020 1:50 PM
As of 8 pm on July 18, the authorities were still searching for other possible victims
PHNOM PEN—At least four people were confirmed dead Saturday (July 18) following a gas explosion in a small shop, according to the fire department in Phnom Penh.
The explosion took place around 4:30 pm at a shop in Phsar Thmei Ti Bei commune, Daunn Penh district, where people sold gas retail in small containers.
"We can confirm now that four people were killed in a fire explosion and among them are three men and a 7-year-old girl," said Major General Neth Vantha, head of the Fire and Rescue Police Department, in a phone interview on July 18. "In addition, there are five more injured people."
The blaze completely engulfed two houses at street level—the one where people sold gas and another where people sold fish for aquariums. The fire started with an explosion in the house where gas was stored.
When asked to confirm the identities of the victims, Vantha said that the local authorities were still investigating to identify them. The Daun Penh district police on July 18 could not be reached for comment.

Vantha added that the authorities were continuing to search through the wreckage in case some people may still be caught under it.

"We can't give detailed information for the time being concerning how many [people were] inside the house, but our rescue forces are trying to get into the building to check if there are still any victims there," he said.
Related Articles