A Groundbreaking Sanitation Project Soon to Start in 1,600 Villages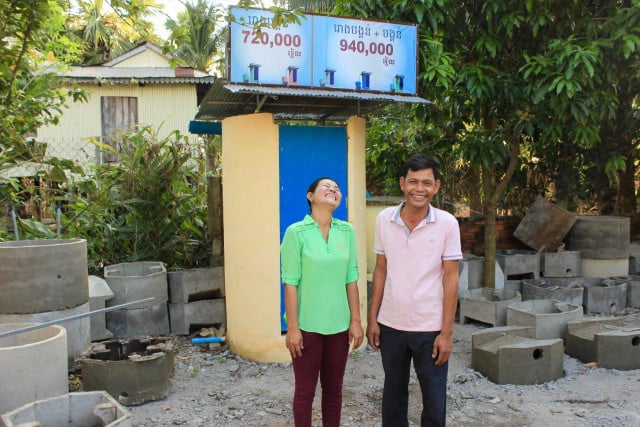 Phoung Vantha
November 19, 2019 8:17 AM
PHNOM PENH--The World's first Sanitation Development Impact Bond (DIB) will soon be launched in Cambodia, the goal being to bring safe sanitation to some of the poorest and most vulnerable households in Cambodia.

The 5-year program will cover 1,600 villages in six provinces: Svay Rieng, Kandal, Prey Veng, Kompong Thom, Siem Reap, and Oddar Meanchey. At stake is preventing stunting among children and the spread of disease due to contamination of drinking water and village environment as a whole.
Conceived as a partnership between the Stone Family Foundation, iDE, and the U.S. Agency for International Development, the project will attempt to put an end to open defecation in those provinces by 2023.
Development Impact Bonds (DIBs) are a performance-based investment instrument intended to finance development programs in low resource countries.
As Lizz Ellis, CEO of iDE, said at the project launch on Nov. 15, the outcome-focus of an impact bond provides flexibility to evolve in a complex and constantly changing market ecosystem.
"This flexibility is important as iDE tests new strategies for increasing our ability to reach the poorest households with improved sanitation, ensuring that all people benefit from the drive towards total sanitation," she said.
"We hope this will serve as an example of how long-term finance and support can address the critical challenge of universal sanitation," said Paul Gunstensen of the Stone Family Foundation.
"This new results-based financing approach to improving rural sanitation demonstrates our commitment to supporting Cambodia on its road to self-reliance," said Veena Reddy, USAid mission director in Cambodia.
The project is in line with the Cambodian government's goal of eliminating open defecation by 2025—five years ahead of the Sustainable Development Goals target of 2030.
Related Articles