A Japanese Firm Invites Cambodia to Recycle Plastic Waste into Road Construction Material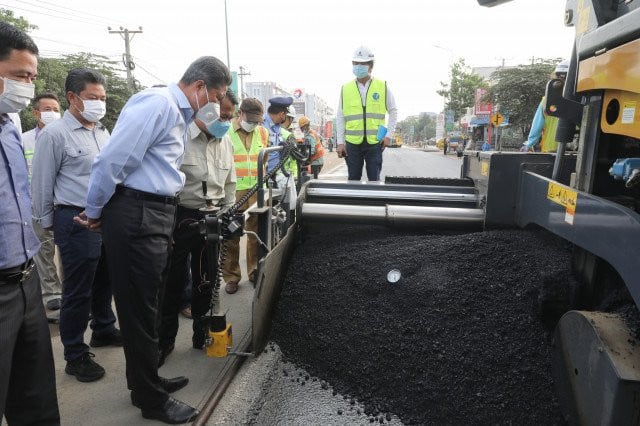 This could help address the issue of plastic waste disposal, a Cambodian expert points out
PHNOM PENH--A Japanese company has met with the Ministry of Public Works and Transport to present a process through which plastic waste can be turned into concrete for road construction and contribute to reducing plastic waste, which is currently on the rise in the country.
Shu Nishiyama, CEO of IKEE Co. Ltd., explained during a meeting with Sun Chanthol, Minister for Public Works and Transport, that his company has developed machinery capable of processing plastic waste into concrete, and asked the ministry to consider using this new technology for the building of roads in Cambodia.
Chanthol showed interest in the process but asked for a study on the situation in Cambodia regarding the use of the technology.
The company must supply information on the plastic waste required as some plastic waste is not clearly classified in the country, which could complicate waste collection and processing.
Moreover, Chanthol said, the company must submit information on the cost and environmental impact the use of this equipment would represent compared to the current use of rubber concrete.
"Companies should study in detail the amount of plastic in Cambodia, how much can be supplied for processing," he said, adding that the price of this plastic-based concrete must not exceed the price of asphalt concrete currently in use.
"An environmental assessment must be done in comparison with the use of rubber concrete," Chanthol said.
This exchange took place at the Ministry of Public Works and Transport on Jan. 25 as Chanthol was meeting with a delegation of Japanese firms led by Shu Nishiyama and accompanied by representatives of the Japan International Cooperation Agency.
Or Chanmoly, a researcher and director of the Institute of Technology of Cambodia, expressed his support for this Japanese technology. Nowadays, he said, plastic waste disposal in Cambodia is not properly done and processing plastic into rubber concrete would contribute to reducing environmental and air impact in the country.
"If we bury the plastic in the ground, plants will not be able to take root because [plastic] is not perishable and will remain hundreds of years," he said. "Left unmanaged on sidewalks or in fields, that plastic flows down the drain, becoming another big complication."
"If we burn it, it will release toxic fumes in the environment, affecting the health and livelihood of our people," Chanmoly said.
Waste management is a serious problem for the environment, he said, adding that the relevant ministries should work together to properly divide the waste to be processed so it can be used as much as possible.
According to a 2019 report of the Ministry of Environment, plastic waste in Cambodia has increased due to population growth, lifestyle and economic growth.
With people's attitudes changing regarding the use of plastic, packaging, food and other materials, plus the lack of knowledge as to waste sorting, in Phnom Penh alone, around 10 million plastic bags are used on a daily basis.
According to the Ministry of Environment's 2019 report, Cambodia generates over 4 million tons of waste annually—20 percent of which is plastic. The volume of waste was expected to rise by 10 percent annually.
Related Articles