"A Life Beyond Boundaries:" What Links, What Differentiates Southeast Asian Countries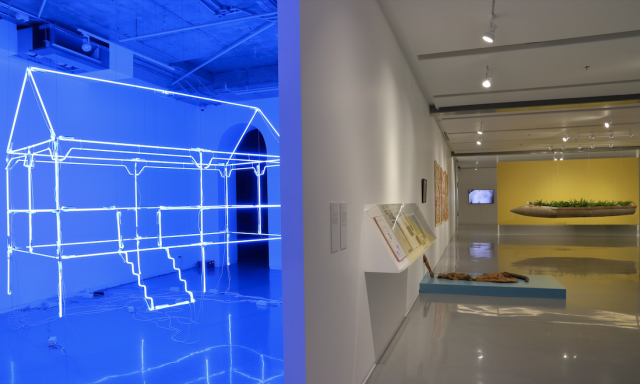 In an exhibition featuring Southeast Asian artists in Bangkok, Cambodian artist Vuth Lyno addresses the theme with a neo-light outline of travelers' shelters found in territories that once were the Angkorian empire
PHNOM PENH--Around 800 years ago, the Angkorian empire built a series of sala samnak, or resthouses, to accommodate those travelling across its territory.
"The 'resthouse' temples attributed to the reign of Jayavarman VII…remain one of the most important yet enigmatic components of the Angkorian Khmer road system that spreads over part of today's southern Vietnam, northeastern Thailand and southern Laos," writes Canadian archeologist Mitch Hendrickson of the US University of Illinois at Chicago whose research on Cambodia has included the role of regional centers and the iron technology during that era.
Set at regular intervals along the empire's roads, their locations suggest that people at the time were covering a distance of around 30 kilometers per day, he said. "Evidence of 'resting places' associated with the Cambodian transport system is commonly found from the Angkorian period to the modern day…. and are repeatedly mentioned in historic records."
Inspired by this tradition, artist Vuth Lyno created the outline of a sala samnak in three dimensions in neon light. First shown in Siem Reap City in 2020, his installation currently features in a Southeast Asian art exhibition in Bangkok held on the theme "A Life Beyond Boundaries (The Geography of Belonging)" organized by Loredana Pazzini-Paracciani.
Floating in the air, the 3-by-2 meters work done in blue light is 2.5 meter high. "I wanted to create an image that had an otherworldly quality…something that could happen in our imagination, in a dream," Lyno explained in a interview. "I wanted to bring the quality of magic and surprise to it. And so, the fragility of the neon light as well as the immateriality of it with the light illuminating."
But going from concept to physical form was no simple task: It took Lyno three months to turn his sketch into reality with some help from Prum Ero who is, he said, "an artist of many talents."
While these buildings have mainly been left to deteriorate as they are not used anymore, he said, "in the rural context, in the villages, people still continue to build them...I want to raise this to the consciousness of the larger public, how we can learn from this model of placemaking and initiative that we, as a community, initiate ourselves and offer to the public."
And with the COVID-19 pandemic during which so many people who have lost their jobs must go back to their towns or villages, this tradition of hospitality for those passing by can be a blessing for these unwilling travelers.


An exhibition in which Southeast Asian artists reflect on what makes each country unique and what brings their countries together
Loredana Pazzini-Paracciani who had known Lyno for a long time had not been able to come to Siem Reap to see his sculpture due to travel restrictions during the pandemic. But she had seen photos of the work and felt that it would perfectly embody the theme of the exhibition she was about to hold in Bangkok.
This theme was inspired by the book "A Life without Boundaries" written by scholar Benedict Anderson who passed away in December 2015, just a few days after correcting the proofs of the text. Born in China, he had lived in Europe and United States, and spent most of his life teaching at US universities and conducting research in Southeast Asia. He was especially interested in the emergence of nationalism in post-colonial eras.
"In the end I think, what comes through [in this book] is that, perhaps, we should not look at nations in a very singular way but we should look within Southeast Asia at the region without national constraints," said Pazzini-Paracciani who is originally from Italy and, for years, has been living in Bangkok and organizing exhibitions featuring Southeast Asian artists.
"There are many similar concerns that I found in my conversation with the artists and my own curatorial work…many connecting points across the region," she said in interview. "Of course, we all have our different identities within Southeast Asia. But maybe one way to approach the region is thinking in a regional way and see what common perspectives and culturally we can share across different nations and across different cultures."
Held at JWD Art Space in Bangkok, the exhibition, which spreads over 600 square meters, features 14 artists. In addition to Vuth, there are artists from Indonesia, Laos, Malaysia, Myanmar, the Philippines, Singapore, Thailand and Vietnam.
"I did not have in mind to cover different mediums…to engage with different art practices," Pazzini-Paracciani said. "I think that happened, actually: We have a variety of approaches." Works range from video and textile works to drawings, paintings, sculptures and installations.
An artist combining art training projects and his work as artist
A large space has been reserved for Lyno's "light" sculpture. "[H]is practice is very interesting within contemporary Cambodia," Pazzini-Paracciani said. "He has a really interesting approach to history and culture, everyday culture, a very hands-on community approach to his work. So I thought that would resonate very interestingly with the concept of the exhibition."
Born in Phnom Penh where he grew up, Lyno first studied information technology at university in the capital. He later obtained a master's degree in international development in Australia and, in the mid-2010s, a Master's degree in art history in United States where he had received a Fulbright Fellowship.
Lyno first worked as an IT person for development agencies and NGOs, then became involved in the art world, which led him to a project at a very special location in Phnom Penh.
"The White Building Project: We started there with my collective, in order to reconnect with that history of buildings: social housing and cultural…because the White Building was part of the 1960s…a post-independence project and…intended to be [part of] a new public cultural district," he said. "We were inspired by that idea of connecting people and arts and culture together in a complex like this."
Moreover, Lyno explained, "we wanted to re-engage with the present conditions of the [White Building where] generations of artists were living together with everyday people, low-level income residents. So the idea was how can we, as contemporary artists, connect with that history, that community and those new conditions of Cambodia. How art and the public, everyday people, can connect and what it can become. So basically, that's what we were exploring."
When the building was demolished in 2017 due to a development project, the Stiev Selapak collective moved to a new space at 47 Street 350 in Phnom Penh. Lyno now co-runs Sa Sa Art Projects, a long-term initiative whose goal is to support the development of contemporary visual arts in the country— http://www.sasaart.info.
In the meantime, Lyno has kept working as an artist. At first, he focused on art photography. "But as I developed my practice, I have been using various mediums: painting, sculpture, installations, lights sound—eclectic media," he said. His work has been exhibited in Cambodia as well as in Australia, China, Indonesia, Poland, the Philippines, Singapore and Thailand.
The exhibition in Bangkok involves a series of online events featuring the artists, with the first one held on July 31. Lyno is expected take part in the event scheduled for September.
"A Life Beyond Boundaries" runs through Sept. 30 at the JWD Art Space in Bangkok.
For more information: https://www.jwd-artspace.com/en/exhibitions/a-life-beyond-boundaries-the-geography-of-belonging-eng/
Related Articles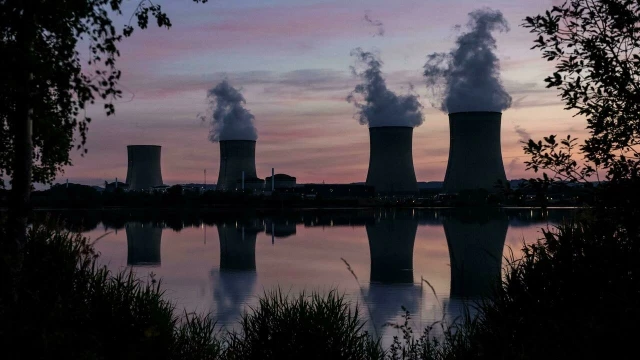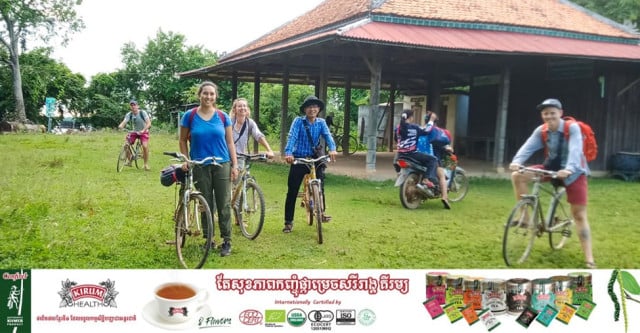 September 27, 2023 9:54 AM