A Mural Symbolizing Harmony and Peace Is Unveiled at RUFA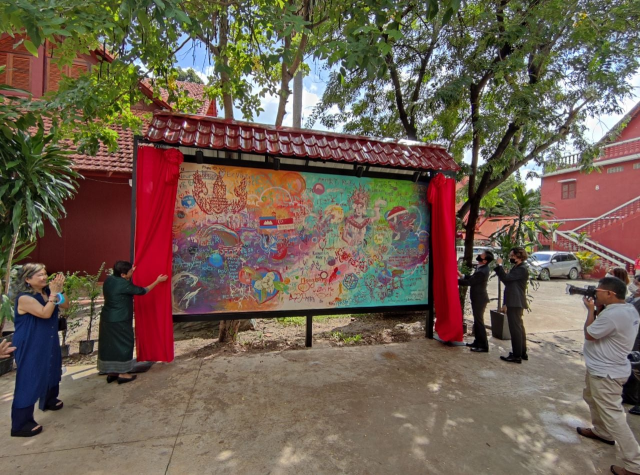 Torn Chanritheara
October 9, 2020 9:30 AM
The artwork marks the 55th anniversary of diplomatic relations between Singapore and Cambodia
PHNOM PENH – Minister of Culture and Fine Arts Phoeurng Sackona and Singaporean Ambassador Michael Tan on Oct. 8 unveiled a mural at the Royal University of Fine Arts (RUFA) in Phnom Penh.
Donated to RUFA by OV Investment, the artwork was painted by Singaporean muralist Yip Yew Chong during the Street Art Fest, which was held in February 2020.
Titled "Community Wall 4," the work is a mosaic of floating images done in soft colors. It is the fifth in a series of 11 murals to be unveiled this year in celebration of the 55th anniversary of diplomatic relations between Cambodia and Singapore.
According to a press release from the Singapore Embassy, a first mural was inaugurated in Kandal Province in August 2020. The second one was unveiled by Deputy Prime Minister and Minister of Foreign Affairs Prak Sokhonn at the Embassy of Singapore in Phnom Penh in early September. And last week, two works were exhibited in Preah Sihanouk Province.
"Two more will be unveiled in Siem Reap and one in Kampong Cham, while the remaining three will be installed in various locations in Phnom Penh," the press release said.
During his visit to RUFA, Tan met with RUFA Rector Heng Sophady and the university's senior management, and exchanged views on RUFA's scope of education, cultural cooperation and ways through which ties between RUFA and Singaporean institutions could be strengthened, according to the press release.
Relations between the two countries go back to 1965 when Cambodia became one of the first countries to recognize Singapore's independence, which was declared on Aug. 10, 1965. Diplomatic ties were formally established on Sept. 15, 1965.
In 2019, bilateral trade accounted for $4.2 billion, making this Southeast Asia nation the 9th largest trading partner of Cambodia as $216 million worth of direct investment flowed from Singapore into Cambodia, according to Singapore Embassy data.
Since 1994, foreign direct investment from Singapore to Cambodia reached $2.03 billion, making that city state Cambodia's fourth largest investor.
Related Articles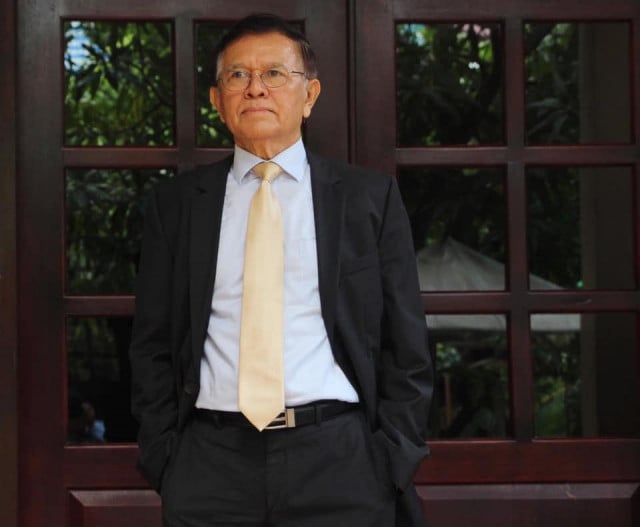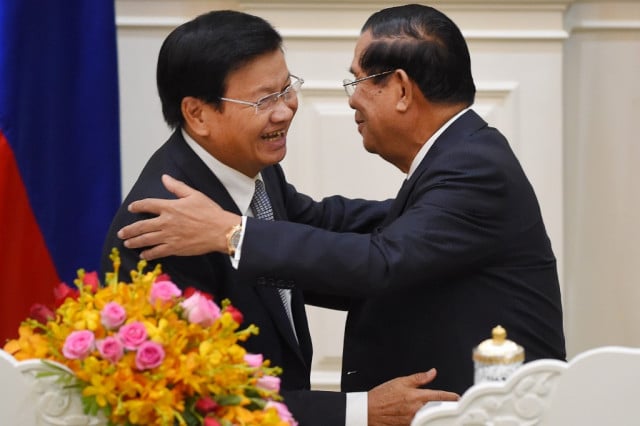 September 13, 2019 4:14 AM