A Ratanakiri Province High School Student Beats University Students in the Ministry of Education Public Speaking Contest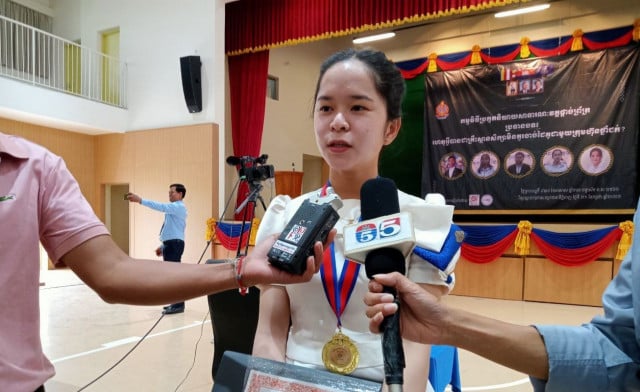 PHNOM PENH — A 16-year-old girl from Ratanakiri province won the gold medal in the final round of the Public Speaking Contest on July 21 during which she faced five outstanding finalists from across the country.
Hak Nita of Samdech Ov Samdech Mae High School in Ratanakiri province came in first place with her speech on the set topic of "[w]hy should educational institutions not partner with tobacco companies" during the competition conducted by the Ministry of Education, Youth and Sports and the NGO Cambodia Movement for Health.
Sok Damrong, a student at the National University of Management, came in second place, and Ly Rathana, an 8-year medical student at the University of Health Sciences, in third place.
Coming from a rural area, Nita said that she did not have high expectations of winning this contest because there were so many outstanding students competing and some of them were university students while she is in high school.
"I just prepared to do my best, [worked] on research, argument, and practiced a lot, using voice and gestures to be successful even though there were many strong candidates," Nita said during an interview after the contest.
"Having far to travel and facing some other challenges was not an excuse," she said. "I just focused on how to make [my speech] as good as possible to raise public awareness.
"Finally, I was able to do it, and I thank my parents," Nita said, for encouraging her to stand on a stage and speak with confidence.
As she explained, beyond the public-speaking contest, taking part in the competition was a way to raise awareness about the harm of tobacco, especially for students and young people. Tobacco not only is costly for young people, but it seriously affects health and, as a result, the education of students who are the potential human resources of the country.
"Tobacco is very popular," Nita said. "The promotion campaigns of tobacco companies [that use] attractive strategies with banner advertising or rewards have lured some young people to try smoking tobacco.
"The promotion of 'smoker chic' and exchanging packets of cigarettes for money are also popular," she said.
In her speech, Nita said that education institutions should not cooperate with tobacco companies even if they give sponsorships or support charities projects, internships or promotions in schools. Students pursue knowledge to be future leaders: If smoking controls them, they will be a burden on the nation, she said.
During the event, Kim Sethany, secretary of state at the Ministry of Education, Youth and Sports, said that Nita was an influential messenger to other young people, to people who understand the effects of tobacco, encouraging them to join together to prevent smoking.
Sethany urged people to help curb tobacco use that continues despite government's efforts. To be successful, any government initiative requires the participation and joint efforts of all relevant parties such as NGOs, the private sector and individuals, she said. "Such engagement is the depiction of a solution, a good deed, a way to prevent the use of tobacco by young people," Sethany said.
The public speaking competition was conducted in three stages: essay writing, public speaking, semi-finals and finals during which the three finalists were selected.
According to the official Facebook page of the Ministry of Education, participants in the Public Speaking Contest include students candidates from high school as well as higher education from Phnom Penh and the provinces.
Related Articles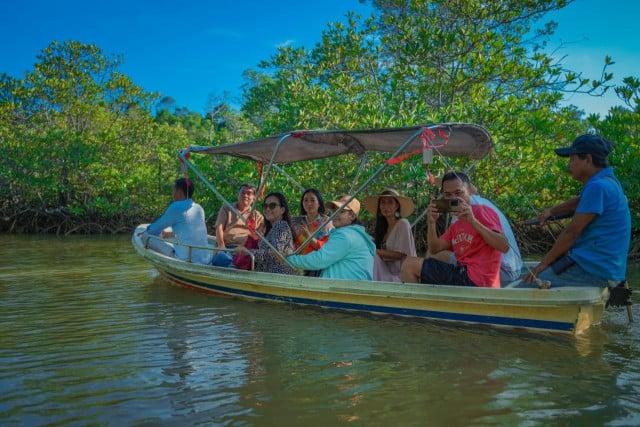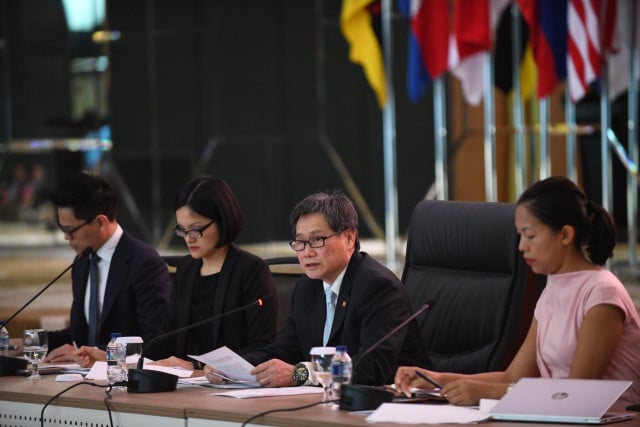 September 18, 2019 7:14 AM