A Renowned Cambodian Film Director Passes Away due to COVID-19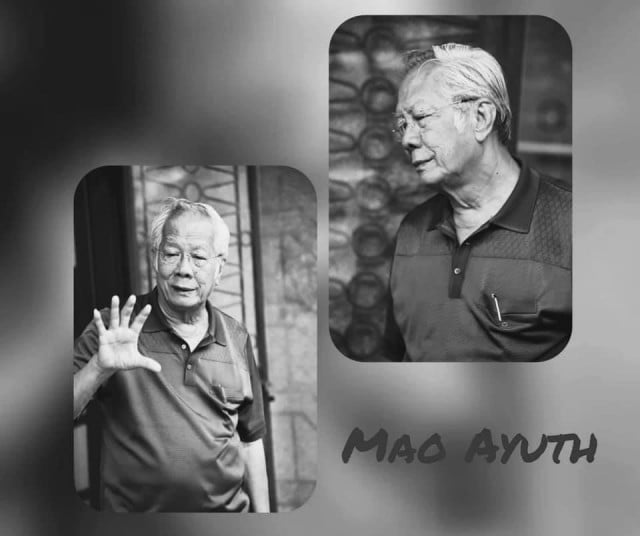 Sao Phal Niseiy
April 16, 2021 5:46 AM
One of the rare great filmmakers to survive the Khmer Rouge regime, Mao Ayuth was also a respected poet in the country
PHNOM PENH--Information Secretary of State and well-known film director and poet Mao Ayuth died on April 15 after contracting the coronavirus.
The announcement of his passing was marked by hundreds of Cambodians sharing his poetry on social media and Prime Minister Hun Sen paying homage to him.
"My wife and I are extremely shocked to learn that His Excellency Mao Ayuth, secretary of state at the Ministry of Information, passed away on April 15 at 6:50 pm at the age of 77 due to illness at the Khmer-Soviet Frienship Hospital," Hun Sen wrote in an official condolence letter.
His passing is a great loss not only for his family but also for Cambodian artists, the prime minister added.
Hospitalized on April 5, Ayuth was later found to have contracted COVID-19. According to the Ministry of Health, he also had underlying health conditions such as diabetes.
According to an article written by Tilman Baumgartel—a media critic, writer and university teacher in Germany who also taught at the Royal University of Phnom Penh—Ayuth was born in 1944 in Srei Santhor District in Kampong Cham Province. He had embarked on his film career when he took part in a script-writing program at the Ministry of Information in the mid-1960s. His feature film "Beth Phnek Hek Troung" (close my eyes, open my heart) in 1975 had been a success.
During the Khmer Rouge regime of April 1975 to Jan. 1979, Baumgartel writes, "[i]t was sheer luck that Mao Ayuth survived the Pol Pot period. He pretended to be a wedding photographer, when interrogated by Khmer Rouge cadres, and got away with it after a lie detector test. He survived as a peasant, fisherman, and laborer."
Deputy head of the Film Department at the Ministry of Propaganda, Information and Culture in the 1980s, Ayuth released in late 1988 early 1989 the film "Chet Chong Cham" (I Want To Remember) about survival during the 1970s through the 1980s, which was made on a budget of $400, Baumgartel writes. The film starred Kai Prosith who became one of Cambodia's most popular actors in the 1990s. His film "Ne Sat Kror Per" (The Crocodile) released in 2005 was his most ambitious production and popular success, he said.
The passing of Ayuth touched many people across the country. "[He was] an important senior person in national television and the Cambodian film sector and training for so many of the younger generations including me and other film actors," said Information Secretary of State Kem Kunawath, who previously served as director general of the state-owned television network TVK.
Tep Rindaro, a Cambodian film actor who featured in many of Ayuth's film projects, also expressed his sincere condolences on his Facebook page.
"I terribly regret as I had been prepared to start new works with Lok Pou (uncle)," he said. "But now, you leave us due to COVID…May your soul rest in peace."
Related Articles