A River Believed to be Polluted by a Factory Is Affecting Fish in Kampong Speu Province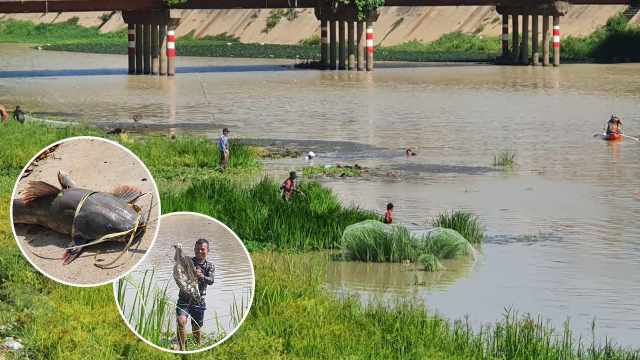 PHNOM PENH — Sewage from a mango confectionery factory above the Prek Tnaot River in Kampong Speu province has caused many small and large fish to become unconscious.
Kampong Speu Governor Vei Samnang said on May 19 that the water had been polluted for two to three days, but that it was in the morning of May 19 that many fish were found unconscious in front of the provincial hall.
It is believed that this was due to the rain that caused the water of some mango confectionery factories' ponds to overflow into the river. When people came to fish with fishing nets, baskets, and fishing gear in the Stung Prek Tnaot, the water was murky. "The fish has just fainted: It is not dead," Samnang said. "Easy to catch. After investigation: It comes from the mango confectionery factory."
The current situation is believed not to have had an impact on the health of the people who use the river water.
As a measure, Samnang has ordered the provincial environmental officials and local authorities to inspect the water and plant conditions. If it is found that the mango confectionery factory lacks the technical skills to manage the waste, it will be fined according to the law.
"I have ordered the environmental officer to study and improve the technology of the plant; otherwise, it will pollute the water [and] we all use that water," said Samnang.
According to the Kampong Speu Provincial Information Department, this is the second year that fish in the Stung Prek Tnaot has been poisoned due to the discharge of toxic waste from the factory located above the river.
Because the water needs to be diversified and go through clean water diversification, it hasn't yet had an impact on the health of the people who use the river water.
Originally written in Khmer for ThmeyThmey, this story was translated by Te Chhaysinh for Cambodianess.
Related Articles