A School Commissions a Mural of Princess Norodom Buppha Devi as a Royal Ballet Dancer to Highlight Cambodia's Cultural Heritage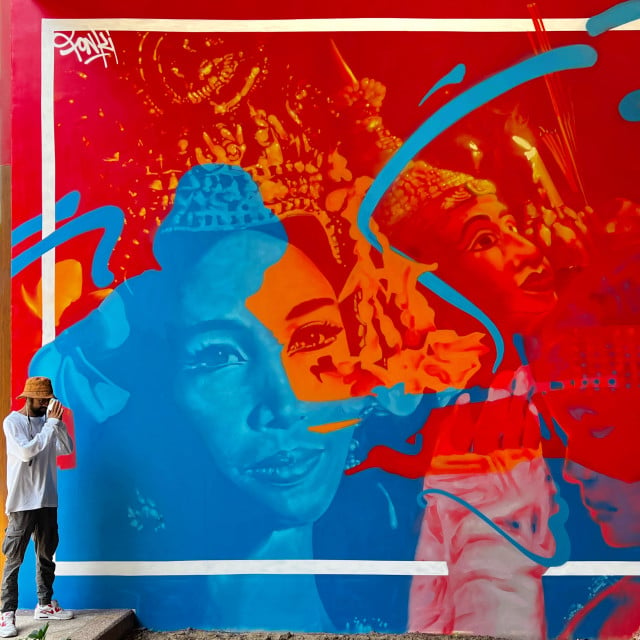 PHNOM PENH--A mural featuring the late Princess Norodom Buppha Devi in her role as a Royal Ballet of Cambodia's premier dancer was unveiled at a school in Phnom Penh. The goal: to help students value the country's cultural heritage.
The Canadian International School of Phnom Penh decided to feature Princess Buppha Devi and the Royal Ballet as the ballet is on the UNESCO List of the Intangible Cultural Heritage of Humanity, said Kimm Renaud, educational consultant at the school.
As he explained, cultural heritage is "a practice, representation, expression, knowledge, or skill considered to be part of a place's cultural heritage." And recognizing the importance of cultural heritage is a key part of building a sense of identity and community, Renaud said. "By providing students with opportunities to become deeply knowledgeable, we are providing them with the knowledge and skills they need to preserve and protect our cultural treasures," he said.
This is the more important that intangible cultural heritage risks extinction unless people know about it and work together to preserve and protect such heritage, Renaud said, adding that Princess Buppha Devi played a key role to help preserve the country's cultural heritage.
The Royal Ballet of Cambodia was added to the UNESCO List of the Intangible Cultural Heritage in 2003. Princess Buppha Devi, who was the daughter of the late King Norodom Sihanouk, was a star dancer of the ballet in the 1960s, having acquired from a very young age the 400 or so gestures that dancers must master. Remaining a strong advocate for Khmer classical dance throughout her life, she served as a cultural advisor in the 1990s and as minister of Culture and Fine Arts from 1998 to 2004. She passed away in November 2019.
The mural at the Canadian International School was painted by the Canadian-Cambodian street artist FONKi.
"One impact that the mural has is that it gives a sense of belonging to students with the school," he said. "One is to graduate and come back and remember that moment. I know how it feels to involve students and share insights besides just seeing the painting on the wall.
"What's behind is the memories, the exchange we had," FONKi said. "Also, it gives importance to creativity and the arts. Passion or profession you choose: There's always creativity involved in it."
So far, FONKi has painted four Cambodian forms of intangible heritage that are on the UNESCO list, he said: the Royal Ballet, Chapei Dang Veng, Lakhon Khol, and the Sbek Thom or Khmer shadow theatre.
He has also painted the Khmer martial art Bokator that is on the nominated list to be inscribed by UNESCO on the Intangible Cultural Heritage list, he said.
"I think our late princess would have dreamed of seeing more of our heritage be protected and represented worldwide," FONKi said. "This mural is not mine. Once I painted it, it belongs to the students and everyone who sees it every day."
"What is important is that every generation of students is inspired and proud of Khmer culture," he said.
Related Articles