A Story about an Irish Artist's Putting Smiles on Photos of Tuol Sleng's Victims Causes an Uproar Among Cambodians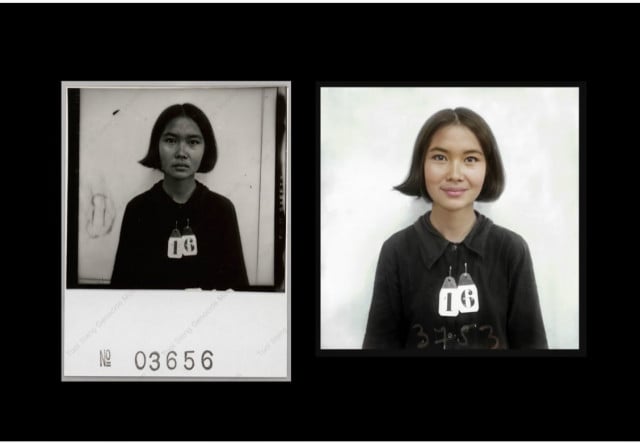 Threats of legal action made by the Ministry of Culture and Fine Arts and an online petition circulating among Cambodians led the website to take down the story

PHNOM PENH--An article published at VICE—a news website covering politics, social issues and culture—has sparked outrage among Cambodians who viewed as morally unacceptable and contemptuous to the victims of the Khmer Rouge regime to have retouched their portraits taken before they were tortured and executed.

This article also led the Ministry of Culture and Fine Arts (MCFA) on April 11 to threaten legal action if VICE did not immediately remove the article and photos from its website. Within hours of the ministry issuing its warning, VICE on April 11 had taken the article off its site.
In an interview with Irish artist Matt Loughrey posted on VICE on April 9 and entitled "These People Were Arrested by the Khmer Rouge and Never Seen Again," Loughrey explained that he had altered photos of prisoners of the regime's extermination camp Tuol Sleng to revitalize their history. The photos posted with his interview had not only been colorized but had also been digitally altered to add smiles on the faces of the victims of the camp known as S-21 during the Pol Pot regime.
"MCFA does not accept this kind of manipulation and considers this work of Matt Loughrey to seriously affect the dignity of the victims, the reality of Cambodia's history, and in violation of the rights of the Museum as the lawful owners and custodians of these photographs," the ministry had stated in its announcement, adding that the ministry had never been in communication with Loughrey.
Hang Nisay, director of the Tuol Sleng Genocide Museum, which is located on the site of S-21, strongly deplored Loughrey's artworks, stressing that it is totally distasteful for the victims and their surviving families.

"For the museum, we can't accept this," he said. "It profoundly affects the dignity of the victims because, you know, those victims had their photos taken while they faced life-threatening situation and torture. But the Irish artist changed them and added smile [on their] faces. It is misrepresenting the actual history."

He went on to say that Loughrey did not seek approval from the museum to use the portraits and documentation that is the property of the museum.

"As I can see, he just took the photos from our website, which was officially launched in late January to help assist families in finding their relatives," Nisay said. "But he didn't request [authorization] for official use."

Neth Pheaktra, the spokesperson for the Extraordinary Chambers in the Courts of Cambodia (ECCC), that is, the Khmer Rouge Tribunal, said that Loughrey has also failed to remember those who survived the regime. "From a personal viewpoint, I think the Irish artist should offer a public apology to the Cambodian people who were victims of the Khmer Rouge regime for his immoral action and for insulting those who died," Pheaktra wrote in a message to journalists.

Chea Sopheap, director of the Bophana Audiovisual Resource Centre that oversees audiovisual archives on Cambodia, said that, speaking from a historical standpoint as a historian, the people who were brought to the S-21 prison had already gone through a very difficult time by the time their photos were taken at Tuol Sleng.

So there was no way they would have smiled when their photos were taken because they all were anxious and traumatized already, Sopheap said, adding that he personally has never seen any photo of S-21 victims with a smile on their faces at the Tuol Sleng Museum.

"From a historical standpoint, the people at the S-21 prison generally were regarded as prisoners even though they were not," he said. "They had gone through a lot of hardship before they reached the prison."

Sopheap went on to say that, if smiles were put on the faces of the S-21 victims, that would mean they were happy, which would contradict history and facts. "I really don't understand his [Loughrey] idea," he stressed.

When asked whether there should be any measure taken in response to the artist's alterations of the photos, Sopheap responded that, in any case, there should be respect for the Cambodian victims.

"I think most of Cambodian survivors are direct victims while young people in modern day are indirect victims of the Khmer Rouge regime," he said. "So, all this documentation is their legacy or heritage.

"This means the artist should stand [and pay] respect to the direct and indirect victims of this dark page of history," Sopheap said.

Online Petition

While many Cambodians condemned the smiling photos, an online petition movement gained momentum.

The petition created on Change.org, which demanded that VICE remove the article and that the artist make an apology, continuously circulated on social media platforms.

"We reject Mr. Loughrey's attempt to profit and benefit from the traumas [endured in the course] of our history," the petition read.

"VICE, take this article down," the text said. "Mr. Loughrey, please stop using photos of Cambodian genocide victims for your experimentation and entertainment. We demand an apology."
Bong Chansambath, a lecturer at the Department of International Studies at the Royal University of Phnom Penh, said that these artworks are inappropriate and disgraceful.

"It is not okay to deliberately put a smile on pictures of S-21 victims, who were probably in their most distressful, if not the last, moments of their lives," said Chansambath who is in his 20s. It is not necessary to have the portraits altered in order to humanize the victims, he added.

"This is not how history should be reported and learned. Cambodia deserves an explanation and an apology from everyone involved in this project," Chansambath said.
Related Articles