A team from the Cambodian Technological Institute wins the 2019 Thnot d'Or competition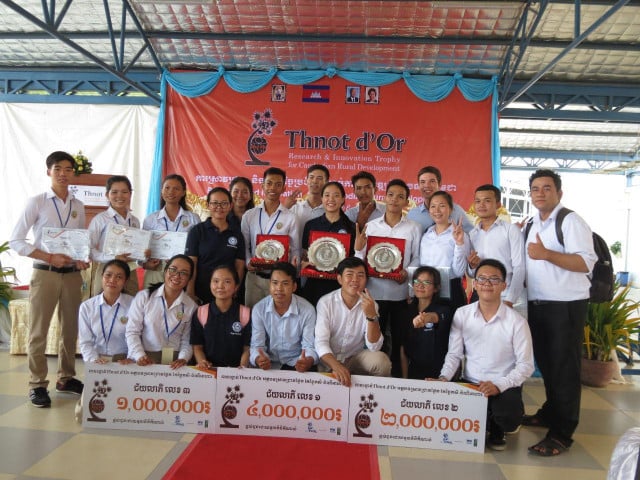 Thmey Thmey
May 28, 2019 10:36 AM
PHNOM PENH--Pineapple in all shapes and forms earned a team of the Institute of Technology of Cambodia (ITC) the Thnot d'Or (golden palm) trophy in this second award competition held by the Kinal Foundation.

Led by Nov Chanpisal, this all-women team conducted research on the development of new products based on pineapple, which fascinated jury members. The jury headed by Sok Sarang, director of ECOCERT-Cambodia , included Sok Vanna, deputy director of the Industrial Crop Department at the Ministry of Agriculture, Forestry and Fisheries; Rath Sara, director of the Vocational Orientation Department at the Ministry of Education, Youth and Sport; and Philippe Monnin, director of SIAT Cambodia .
At the award ceremony that took place on May 25 and was held under the presidency of Nao Thuok, secretary of state at the Ministry of Agriculture, Chanpisal received $1,000 awarded to the winning team.
The second prize also went to an ITC team for a research on the development of vegetable croquettes/dumplings, while the third prize went to a team from the Kampong Cham National School of Agriculture that was taking part in the competition for the first time.
The award ceremony for the 2019 Golden Thnot , which is intended to support research and innovation in the fields of agronomics and food production, was held under the high patronage of the Ministry of Agriculture and with the support of the Agence française de développement (French development agency). It took place a few weeks after the "Skor Thnot Kampong Speu" (palm sugar of Kampong Speu province) was put on the prestigious Protected Geographical Indication (PGI) list recognized by the European Union.
A coincidence that prompted Dr Hay Ly Eang, founder and president of the Kinal Foundation, to use this as a concrete example of the importance of innovation in rural development.
"Dear students who took part in this second Thnot d'Or contest, please remember that this European recognition would not have been possible without the production of sugar that is thoroughly healthy and in compliance with international food-safety standard," Dr. Hay said.
"The crowning achievement of the research conducted by Confirel with the support of French experts, obtaining the 2005 Gold Award at Natexpo [the international trade show for organic products in France] opened the door to obtaining the GPI in Cambodia and then in Europe for palm sugar," he said.
"And thus protected and recognized, the Thnot sugar will help increase producers' revenues.
"Therefore, there is a direct link between research, innovation and rural development," Dr. Hay said.
"By taking part in the Thnot d'Or competition, dear students in agronomy and food production, you show your commitment to the valorization of Cambodian products and your determination to contribute to the development of rural Cambodia and its residents.
"I hope that you will continue in this direction when you have completed your studies as this is one the best ways to say how much one loves one's country," Dr. Hay added.
Related Articles