A Tribute to Three Heroes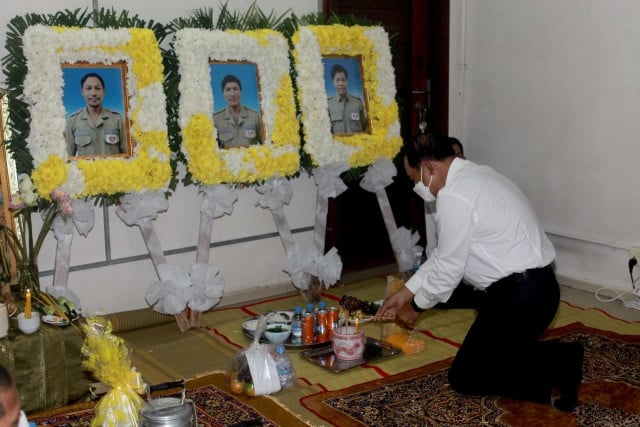 The death of three mine-clearing experts in Preah Vihear Province on Jan. 10 as they were working to neutralize an anti-tank mine has drawn attention to these true heroes as are those who choose to take on this career.
While the rest of the population live in peace, a mine-clearing expert is someone who lives, day in and day out, in a war that ended decades ago. Who set up the anti-tank mine that killed three men, when was it put in place: No one of course will ever be able to answer these questions.
Maybe those who put it there in wartime are still alive today and enjoy a peaceful life. One thing is certain, however: This device—their device—has kept functioning as if the war was still on. And it did its job: It killed. A mine does not do peace. It does not stop functioning the day a peace treaty is signed. It waits in this hole for its victim to at best tear his leg, and at worst destroy him.
Cambodia has been one of the most heavily mined countries in the world. Once peace returned, demining emerged as a clear priority. And this required that some people decide to work as deminers, to live every day with the risk of walking on an instrument of death. Of course, they were trained and equipped. Be that as it may, the risk is ever present.
As years went by, they have demined hectares and hectares of land to turn them into safe and arable land. In the 1990s, newspapers would get monthly reports on the number of people killed by landmines. This was measured in dozens. Farmers in their fields, children playing. Today, thanks to the work of these heroes, such accidents have become rare to the point of making people forget that this used to happen. Until an accident like the one that caused the death of these three mine-clearing experts with the NGO Cambodian Self Help Demining reminded us.
According to Ly Thuch, first vice-president of the Cambodian Mine Action and Victim Assistance Authority, since 1997 until today, 154 mine-clearing experts have been killed, maimed, and injured: 154 heroes who would deserve to have a monument erected in their honor.
Because when Cambodia will have been entirely cleaned of these killer devices, we must not forget these people who kept on living in war to provide security for all.
Many countries have chosen to eliminate these explosive devices from their military arsenals and to never produce and market them again. But nothing is irreversible when it comes to waging war. This monument would also forever be testimony to the cruelty and ignominy of these cowards' weapons that kill indiscriminately, whether soldiers or civilians, and remain active for years and years after the end of the conflict that had justified their use if heroes like the three deminers who lost their lives don't neutralize them.
Related Articles