A Young Cambodian's Passion for Bicycle Racing Stirs Up Enthusiasm on Social Media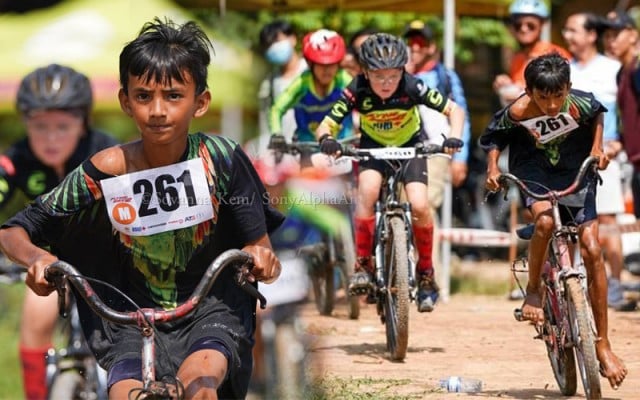 Soeurn Vanndet
November 13, 2020 8:38 AM
Riding on a bike bought from a street scavenger, Pech Theara was set on completing the course
PHNOM PENH—The photo of a young Cambodian boy riding a bicycle in poor condition and wearing no helmet, body protective gear or even shoes but set on keeping up with the other competitors in a bicycle race has received widespread attention on social media.
And his lack of proper gear did not stop 13-year-old Pech Theara to cycle with other boys under 15 whose bicycles were in much better condition in the recent Cambodia Mountain Bike ((MTB) Series event that took place on Nov. 11 in Phnom Penh in Chroy Changva District's Prek Tasek commune.
"I love cycling competitions: I want to be a bicycle racer in the future," he said.
Theara was not registered on the race's official list but he still tried to reach the finish line.
As a Cambodia MTB Series organizer said, local children always want to take part in the races and are allowed to join free of charge.
"Most of them do not have helmets, which is a big concern," the organizer said in a Facebook chat. "However, we decided to allow them to get involved to make them happy."
Theara is the youngest of five children in his family, he said. A 4th-grade student, he explained that his family is poor: His father is a construction worker and his mother is sick and stays home.
Still, Theara found ways to buy a bicycle from a street recycle-good collector.
His goal is to become a bicycle racer, he said, adding that he would not hesitate if the Khmer Cycling Federation needed him as a youth trainee.
The photos of Theara during the race were taken and posted on Facebook by Cambodian sports photographer Kem Sovanna.
Whenever he photographs Cambodia MTB Series races, he always takes shots of children who join the event, he said. But this is the first time that his photos of young participants have attracted so much attention on social media, Sovanna added.
Since the photos of Theara were posted on Facebook, a benefactor has given him a bicycle and equipment, he said.
Related Articles