A Young Woman Debater Aspires to See More Women Build Up Debate Skills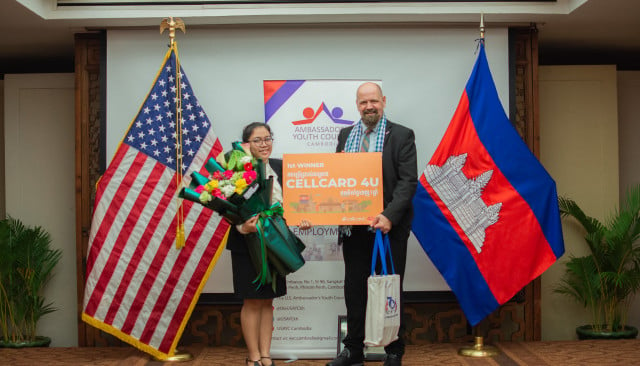 Cheng Ousa has so far won six awards in debate competitions. The 22-year-old student who is undertaking dual degrees—an international studies degree at the Department of International Studies and a bachelor degree at the Department of English at the Royal University of Phnom Penh (RUPP)—shares her thoughts on how to build debate skills and why she believes it is critical for Cambodian women to develop a debate culture.
Chea Sameang: Why did you decide to join the RUPP Debate Club?
Cheng Ousa: It is quite a dramatic story because I did not have a good start in debates. I used to be arrogant and bold, especially about my English proficiency. So here is the thing. Back in 2018, I was a freshman at the Institute of Foreign Languages (IFL), and I joined the Debate Challenge 2018 hosted by the IFL Debate Club. The worst part of it was that I literally lost every round in the preliminary round. This hit me hard and made me realize that having good English is not enough to make a good debater. Alongside this, I was inspired by the speech of two people: my sister and a debater.
My sister was a former student at IFL, and she told me about the club, which got me hooked. She said that this was a place where I could grow personally and academically. And I was so mesmerized by a debater and his debating skills on stage even though he was given a limited amount of time to persuade the audience and judges about his stance.
Thus, for these reasons, I wanted to become a good debater. In addition, I have a personal reason for wanting to improve myself in speaking. I used to be viewed as a talkative person since I like to speak English—I remember speaking to a mirror for one year just to improve my pronunciation and speech structure because no one wanted to speak with me [in English]. I want to be a rational person who can make a point backed up with reasons and logic rather than uttering nonsense. Thus, for these reasons, I want to become a good debater and that is why I decided to join the IFL Debate Club in late 2018.
Chea Samenag: As co-founder of the debate club, can you share with us what are the benefits of being a debater and how to improve?
Cheng Ousa: I am the co-founder and a team judge of the Khemara English Debate Society through which we act as a bridge to bring Cambodian debaters to international tournaments by providing them with proper training and matching them to the tournaments. Personally, there are many reasons why one should become a debater. Let me divide them into two themes namely personal growth and academic development. However, we should first understand what a debate is. A debate is an intellectual team game in which we debate as a team of two or more depending on the format of the debate. Debaters are supposed to support their respective sides with logical reasons and explanations. Debaters are given a limited time for preparation and speech. Most importantly, I see debate as an empowering platform where we, regardless of our gender, can say anything we want to support our sides, and people will listen to us. Those people include the judges, the opposite team, our teammates and the audience.
Regarding personal growth, debating changes our mindset a lot. A debater thinks more than an average human being because we are trained to think and reason in a short period of time. Debaters are also open-minded because we have to listen a lot, not only our teammates but the opposite team as well so that we can respond effectively. Debating teaches us to be good leaders and good followers because a debate is a team game that requires cooperation and teamwork. The speech by the first speaker must be known and understood by the whole team so that they can protect and rebuild their team's case.
Second, it is about academic development. Debating teaches me to put rationale in my papers, which helps me to get good grades with my answers. Moreover, debating enables me to be a global citizen who knows…about the world, which is beneficial for my major in international relations. A debate motion can vary from "the notion of true love" to "the CPTPP application of China" [China applying to join the Comprehensive and Progressive Agreement on Trans-Pacific Partnership (CPTPP) trade agreement in 2021].
Furthermore, debating improves my English usage. Regarding reading, debaters must read a lot in order to understand the motion, to find an argument and to find a response or rebuttal of the other team. Regarding listening, debaters listen intensively to their opponents so that they can respond well. Debaters also listen to judges for feedback so that they can improve next time. Regarding writing, debaters write before their speeches arguments and references. They also write after their speeches so that they can help their teammates. Regarding speaking, debaters speak as part of their argument and they also ask the other side questions. Another exciting part of debating is traveling. Because of debates, I have traveled to South Korea, Thailand and Estonia in 2019.
Chea Sameang: As a six-time winner in debates, would you tell us what it takes to be a good debater? And how can one develop debater's qualities?
Cheng Ousa: This requires a lot of practice. To be a good debater, we need to debate a lot. Even though I have been debating for the past four years, I still watch debate videos and I debate on different platforms as well. I am not only a debater, I am also a judge and a trainer, and so I learn to debate in different settings. I read a lot and try to analyze why such things happen from two perspectives so that I can train my mind to think from different viewpoints. Another important thing is to be open-minded to the information that we receive so that we can make a better decision on how to use the information. One more tip is to listen attentively to your teammates because debaters are fighting as a team. Talking about the awards, I am currently a champion of six: five are for national championships and the other one an international championship. In 2019, I was the youngest champion of the 16th IFL Debate Forum, a champion of the JCI [Junior Chamber International] Debating Championship, National Round; a champion of the JCI World Debating Championship regional round in Jeju, South Korea; and a winner of the National Youth Debate on Human Rights 2019 organized by the ASEAN Intergovernmental Commission on Human Rights and the Cambodia Human Rights Committee. Then in 2021, I was the winner of the Grand Finale of the Model Prime Ministerial Debate 3 Cambodia hosted by the US Ambassador's Youth Council, and also the champion of the Transparency Debate Competition organized by Transparency International Cambodia.
Chea Sameang: Would you share with us why Cambodian women should enhance their debate skills? And why does it really matter for them given they are living in a male-dominated society?
Cheng Ousa: I used to research patriarchy in Cambodia, and I must say that I was really sad with the data we found. Not only is there a limited number of women in decision-making bodies, but there is also more societal oppression on women than on men. With the culture of male domination, women are left out and their problems will not be put to the table for discussion. Problems such as sexual harassment and gender-based violence would not be discussed if we have no women's voice. Moreover, society cannot progress as well toward development since women are a big human resource and their innovations are needed to develop our country. Female entrepreneurs were the first group to focus on sustainable projects such as zero-waste lifestyle and cloth sanitary pads. Talking about my debate society, we are a group of three young independent women who want to create a sustainable debate circuit in Cambodia, and this year we focus on bringing high school students to the World Schools Debating Championship 2022. You see, women have the same abilities as men, and if we were to cooperate and combine the abilities of all groups of people, we could make Cambodia a better place for everyone.
Personally, I think that Cambodian women should improve their debating skills because of one important aspect, which is to make a point. Women should have the ability to speak about what they want and being submissive to other people limits their ability. Women need to know why they are right and wrong, and debating trains them to think critically and to speak effectively to other people. Debate does not only involve speaking skills; it also includes rhetoric, persuasion, research and teamwork. I used to be told as a young girl that I should not talk too loud or too much as it violated the code of the "good girl." I hated that and debate is a platform that gives me the spotlight to show my abilities and knowledge regardless of my gender. I wish that many girls and women would get a chance to express themselves as well.
Chea Sameang: Do you have any final words to encourage young women to build their debate skills or get more involved in debates?
Cheng Ousa: Of course, I have so many things to mention to everyone and especially to all the women out there. If I can do it, you can do it as well. I started debating when I was studying for two majors at university. I must say it was hard and exhausting, but it was so enriching. I learned a lot and have had fun along the way. There is nothing more painful than having your voice silenced by other people. The world is indeed a scary place, so first learn to protect yourself and your ideas. Do not be submissive to others just because of societal norms. Debate teaches you to be open-minded and strong, not arrogant. Debating involves both argumentation, which is a reason, and rebuttal, which is a way to undermine the opposite side. These are the skills we need that we can use not only to make our stance, but also to undermine those who want to challenge us. I can be a passive-aggressive speaker or a calm speaker depending on the motion. I can be the first speaker or the third speaker depending on the team dynamic.

The interview was submitted to Cambodianess by Chea Sameang who is a graduate student majoring in International Relations at the Paññāsāstra University of Cambodia. He also has great interest in journalism.
Related Articles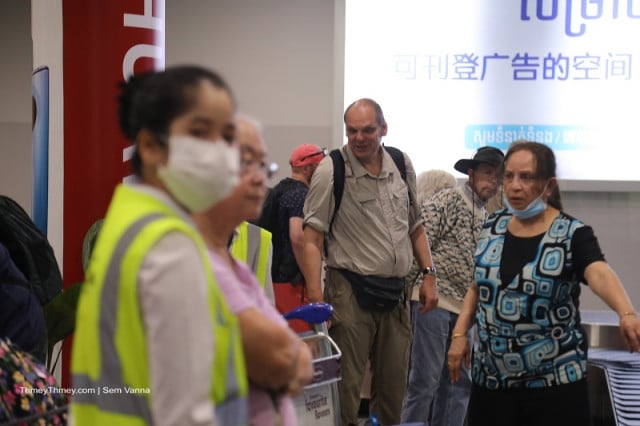 February 16, 2020 6:09 AM