Activist Chhim Sithar Jailed for Two Years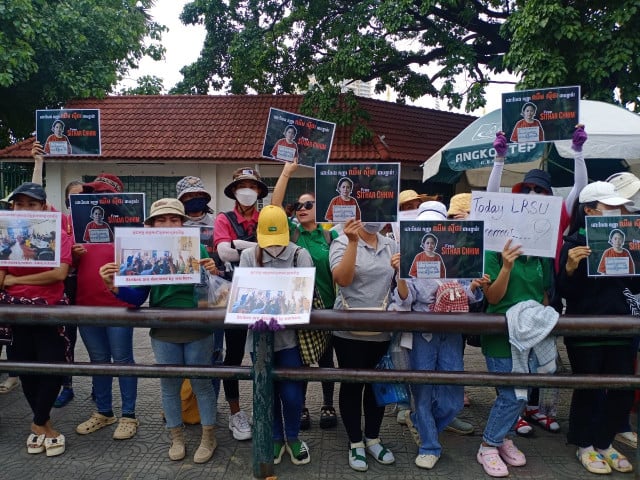 PHNOM PENH – Human rights defender and union leader Chhim Sithar has been sentenced to two years in Prey Sar prison for incitement.
Phnom Penh Municipal Court announced the sentence on May 25. Sithar had been in pretrial detention for one year, so she has one more year to serve.
Other union members Chhim Sokhorn, Hay Sopheap, Kleang Soben, Touch Sereymeas and Sun Sreypich were sentenced to 18 months in prison but they are under judicial supervision. Sok Kongkea, Ry Sovandy and Sok Narith were sentenced to one year, but suspended.
Sovandy, who is pregnant, said in front of the court that this conviction was an injustice as the case was a work conflict between employer and employee which was not what the charge involved.
"I felt it was so injustice as we all the representatives of the worker to protect them by using our rights and following the law and workers volunteer jointly but the authority changed us for incitement and sentenced us," she said.
She said she and her colleagues would appeal.
Lawyer Sam Chamroeun said he would discuss with his client whether to appeal or not.
The group were released from Prey Sar prison on bail in March 2022. Sithar was arrested again in November for allegedly violating her bail by traveling abroad to a trade union conference.
Since late 2021, Sithar has led NagaWorld employees in a peaceful strike calling for higher wages and the reinstatement of hundreds of union members who believe they were unjustly fired, including nearly a dozen union leaders who face criminal charges related to the strike.
Related Articles