Activists Demand Chut Wutty Death Probe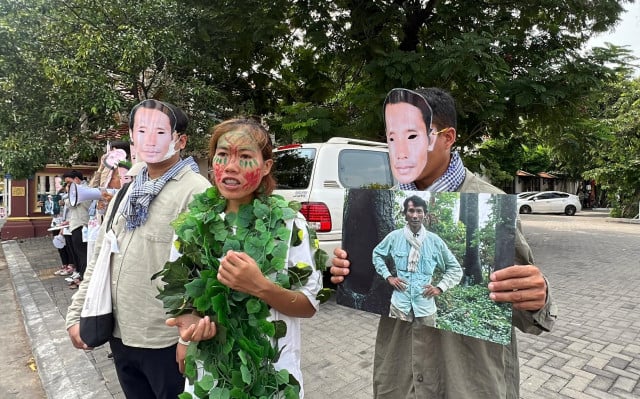 PHNOM PENH – Family members and environmental activists have demanded justice for Chut Wutty on the anniversary of his death.
The anti-logging campaigner was shot dead on April 26, 2012, at Veal Bei village in Koh Kong province.
About 20 youths submitted a petition to the Ministry of Justice asking it to urge the prosecution to open an independent investigation into the murder.
The ministry accepted the petition and promised to respond later.
Cheuy Oudormreaksmey, Wutty's son, said that justice was still as far away as the sky for his family.
"We need justice for Chut Wutty. Chut Wutty 11 years without justice," he said.
Chak Sopheap, executive director of the Cambodian Center for Human Rights (CCHR), said, "A few days before his death, I was on a call with him discussing his security concerns as we had learned about a threat against him from community members.
"Regardless of the threat, he bravely continued his mission to protect the environment and natural resources. Eleven years later, justice and rights to truth are not revealed."
Wutty was shot in a forest of Koh Kong province while investigating reports of illegal logging and land grabs. Two reporters from The Cambodia Daily were with him and survived.
Official accounts said his car was stopped by military police and security guards hired by Timbergreen Company, which had a permit to clear forest at Veal Bei for the Russey Chrum hydropower dam.
The official report said Wutty quarreled with In Ratana of the military police and company guard Rann Borath over demands to hand over camera memory cards.
Ratana shot Wutty but died by the same rifle when Borath grabbed it. Borath received a suspended sentence of 18 months.
Related Articles