Ad Hoc Commission Formed to Probe Irregularity in Military Promotion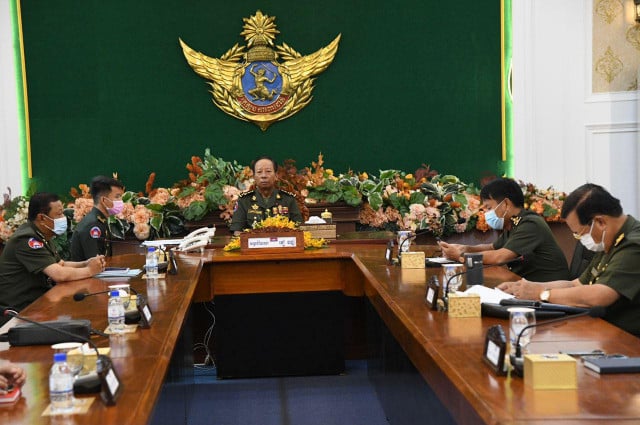 Torn Chanritheara and Mao Sopha
February 4, 2021 9:04 AM
Some officers held back by rules about their job rank but critics say corruption is a factor
PHNOM PENH--A joint ministerial commission has been formed to investigate why some military officers have not been promoted or received a higher salary despite being eligible.
Defense Minister Tea Banh and Economy and Finance Minister Aun Pornmoniroth announced the ad hoc commission on Jan. 21.

The team is co-chaired by Economy and Finance Ministry secretary of state Vongsey Vissoth and National Defense Ministry secretary of state General Phuong Siphan. Lieutenant General Hun Manet, deputy commander-in-chief of the Royal Cambodian Armed Forces (RCAF ) and chief of the army, is one of the deputy heads.

The commission is to study the position of soldiers who were not promoted in line with the armed forces' general statute. It will also look into the qualifications for these soldiers to receive allowances.
Thong Solimo, spokesman for RCAF High Command Headquarter, told Thmey Thmey on Feb. 2 that the commission was set up to search for long-serving soldiers who had not been promoted.
For instance, Solimo said, one officer held the position of provincial military chief for 10 years with rank of colonel, but he could not be promoted because if he was, his rank would not be compatible with this position.
He said some officers who had been working for a long time in a position limited to a specific rank had not received any promotion either.
Social analyst Meas Nee said promotion had been an issue particularly between the old guard and new officers while indicating the involvement of corruption in the military.
"I've heard of some cases. Supposedly, if someone wants to get promoted from captain to major or from major to colonel, they must pay $2000, $5000 or $10000 depending on the rank," Nee said.
"This has been happening in both the police and military sphere," Nee said, adding that he may not be the only one to know of such a practise.
Solimo denied the involvement of corruption, saying promotions undergo proper evaluation from the respective unit before higher-ups make a decision. It was not based on any preference or sentiment.
"No soldier jumps over the rank," Solimo said.
Nee said the government should establish a clear system to fairly promote long-serving soldiers or those with merit. He added that some officers were promoted quickly because they showed loyalty towards or supported some party while officers with technical skills and experience in war continued to hold a low rank.
Related Articles