ADB: Cambodian Economy to Shrink -4.0 Percent in 2020 and Bounce Back in 2021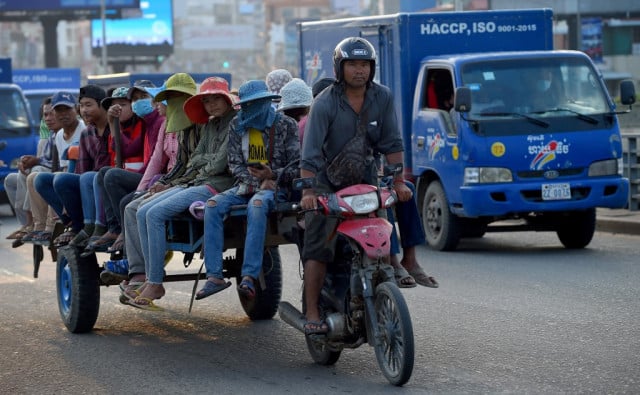 Gerald Flynn
September 24, 2020 1:37 PM
The revised economic forecast still paints a gloomy picture with Cambodia's most vulnerable people facing prolonged hardships, but opportunities are beginning to emerge according to the ADB.
PHNOM PENH--Diversification of both export products and their destinations are reportedly behind the Asian Development Bank's (ADB) revised economic predictions for Cambodia, after reporting in June 2020 that they forecast negative GDP growth of -5.5 percent for the year. This has been adjusted to include more recent developments and now the ADB is expecting a slightly better year for Cambodia, with an economic contraction of -4.0 GDP growth.
"The projection for 2020 is quite conservative," explained ADB's Country Director Sunniya Darrani-Jamal. "It is definitely higher than the government's own predictions of -1.9 percent."
However, while Cambodia is set to weather the economic storm of COVID-19 this year, the ADB sees the economy on track for a strong resurgence in 2021 with GDP growth of 5.9 percent.
"Given the impact that COVID-19 has had, not so much in terms of health impact, but in terms of economic impact on Cambodia, then we see a widening of the current account deficit this year," Durrani-Jamal added, suggesting that the pandemic has seen the value of Cambodia's exports drop below the cost of its imports.
"I would just like to add that there has been a strong performance economically in Q1 which is why we revised our projections," explained Durrani-Jamal. She praised the Cambodian government's speed in responding to the pandemic with policy in terms of border closures and cash transfer programs.
"There continues to be a lot of uncertainty, particularly in the Western part of the world where lockdowns are being imposed again and cases are increasing, but while there is a lot of economic uncertainty and there are expectations of rising poverty and unemployment in Cambodia, there is a lot of opportunity for creative thinking when it comes to strengthening social protection mechanisms, undertaking reform and reskilling," Durrani-Jamal said.
As the ADB noted, Cambodia's economic performance remains above the regional average—developing Asia's economy, as a whole—will contract to -0.7 percent growth. This, according to the ADB's Country Economist in Cambodia David Freedman, is the first time in 60 years that developing Asia's economy has shrunk, but he predicted a strong rebound of up to 6.8 percent growth in 2021.
"More than three quarters of the economies in the region are contracting, with the exception of China, Bangladesh, Vietnam and Brunei who are bucking the trend of contraction," Freedman explained, citing COVID-19 as the most significant impact on GDP throughout the region.
Key Engines of Growth Faltering
"Despite the relatively optimistic outlook that the ADB has presented, Cambodia remains highly exposed to some of the impacts from the pandemic due to its large tourism sector and its close linkages with the US and Europe," Freedman said, noting that the jump from -5.5 percent growth predicted in June 2020 to -4.0 still poses risks.
The sharp drop in demand for garment, travel and footwear goods in North America and Europe has seen almost a third of Cambodia's garment factories close or suspend operations—a crisis that has been exacerbated by the Cambodian government's refusal to fulfil its human and labor rights obligations in line with European standards. This headstrong approach from Prime Minister Hun Sen has cost Cambodia roughly 20 percent of its tariff perks enjoyed under the EU's Everything But Arms (EBA) scheme—a program aimed at bolstering the exports of developing nations and has undoubtedly played a pivotal role in Cambodia's economic development.
The ADB's April 2020 predictions were based on data finalized in March 2020 when the COVID-19 pandemic's impact on Cambodia's key export markets began to take hold, but the ADB credited the Cambodian government with a strong health-policy response that has played a role in the revised economic forecast.
"The tourism sector, which has historically been an important driver of growth, has been completely decimated, which translates into a large impact on the service sector, which we expect to contract as whole by -15.1 percent," said Freedman.
Manufacturing is also expected to contract due to the size of the garment sector, but Freedman noted that the pandemic—perhaps spurred somewhat by European sanctions—has seen the start of a shift towards non-garment manufacturing.
The export of bicycles, electrical parts and vehicle parts have risen by almost 30 percent year-on-year for the first half of 2020. For years analysts and economists, including those from the ADB, have called for a greater diversification of manufacturing products in Cambodia.
The reliance on garment and textile manufacturing has widely been regarded as leaving the country's economy vulnerable to external shocks, which manifested this year in the form of both the COVID-19 pandemic and the EU's decision to partially revoke Cambodia's EBA access.
Agricultural exports have also increased, not just in terms of rice, but higher value products too. This is an area of growth that the ADB suggested could benefit from the long-awaited free trade agreement with China.
Meanwhile construction is expected to grow, with the industry sector predicted to grow 5.1 percent for 2020. Combined with growth in agriculture, Freedman explained that the increased industrial activity taking place across Cambodia would help offset a large amount of the losses seen in the service sector.
Services, he went on to say, would not make a full recovery in 2021, but he added that next year all sectors will contribute to economic growth.
However, Poullang Duong—the ADB's senior economics officer—warned that the trade deficit will widen this year due to reduced garment exports and the collapse of the tourism sector.
"The export growth is expected to decline faster than import growth in 2020, but this trend will reverse in 2021 as the tourism sector starts to recover," said Duong. But he noted that the trade deficit will result in a current account deficit, which will widen to 22.3 percent of GDP.
Duong detailed the steadiness of inflation, which the ADB predicted to remain at 2.1 percent for 2020, dropping to 1.8 percent next year.
Macroeconomic Stability Predicted, but Human Cost Soars
Despite the relative macroeconomic stability of Cambodia—something the Ministry of Economy and Finance as well as the National Bank of Cambodia have both been credited for—there is an increased risk of poverty as unemployment remains unchecked.
Earlier this year, the ADB estimated that some 390,000 jobs would be lost in Cambodia as a result of the economic carnage that has followed the pandemic and in their September 2020 update they saw no change in this estimation.
Reports have shown mismanagement of the government's cash transfer programs, with corruption at the local level preventing the admittedly meagre cash offerings from reaching those who need it most.
"Cambodia will be faced with a stark trade-off as to how long the government will continue to support ailing industries," warned Freedman.
Prime Minister Hun Sen has previously hinted that cash transfer programs that have barely cushioned the economic impact of the pandemic may come to an end, leaving Cambodia's poorest to fend for themselves in a virus-ravaged economy.
The inefficiency and limitations to the government's cash transfer programs have been compounded by over-indebtedness for households who are now struggling to repay microfinance loans and studies have found many borrowers relying on second or third loans to pay off existing debts. Many Cambodians who lost their jobs in the garment manufacturing and tourism sector have also reported the threat of hunger as they are forced to choose between paying debts and buying food.
"Looking ahead, one of the first concerns is to ensure the wellbeing of the population and to pay attention to the indices of poverty and the additional needs of those who are receiving cash transfers from the government to make sure that they don't face unnecessary hardships," Freedman said.
"The majority of the risks to the economy relate to the pandemic," explained Freedman. "Cambodia is not an island, it is not immune to what is happening in the global travel sector which is recovering slower than expected, so the timeframe remains uncertain."
Similarly, the output of the garment sector was regarded as a risk by the ADB. A prolonged pandemic and further lockdowns in key export markets will have an impact on Cambodian workers. The construction sector is also under threat from faltering foreign direct investment, which—despite mostly coming from China that is on track to see positive economic growth of 3.2 percent for 2020—could still be interrupted, according to the ADB.
All of these key engines of growth are at risk, the ADB stated, as they are intertwined with the fates of many different economies around the world and much uncertainty surrounds the global economic recovery due to varying approaches to combating the virus.
"On the domestic demand, there's a risk of suppressed consumer demand—particularly if Cambodians choose to buy fewer goods in order to service their debts," added Freedman.
Climate change also poses a threat to agricultural growth, a phenomenon already felt keenly among Cambodia's fishing communities. Shortened rainy seasons and more extreme weather events, exacerbated by excessive damming of the Mekong River, have brought riparian communities extreme hardship. This is crucial in a country where fish make up a large bulk of the national protein intake, but it paints a bleak future for farmers too—who earlier this year reported large crop failures due to a lower than usual level of rainfall.
Comprehensive Social Security Needed for Most Vulnerable
ADB Country Director Durrani-Jamal stressed the importance of improving Cambodia's social protections, saying that now is the time to get people registered as there has already been a very serious impact on certain sections of the population. She pointed to the vulnerability of women and workers who have returned from abroad as reasons for expanding Cambodia's fledgling social security programs, noting that high levels of household debt—despite having been a longstanding issue—are more pressing during the pandemic.
"I'd just add that conditions are going to be tough, they're going to be tough globally," said Durrani-Jamal, warning that, while Cambodia's economic forecast had improved in recent months, the situation remains critical.
"Until the health crisis is addressed, it will be tough times. We need improved efficiency in spending, revenues are down—Cambodia is by no means a rich country and there's going to be a lot of social pressure that's already building up as conditions worsen. So I hope that we as development partners, the private sector and civil society can all play our role in addressing this and preparing for the future," concluded Durrani-Jamal.
Related Articles