ADB: Medical Supplies for Developing Countries is being Manufactured in Cambodia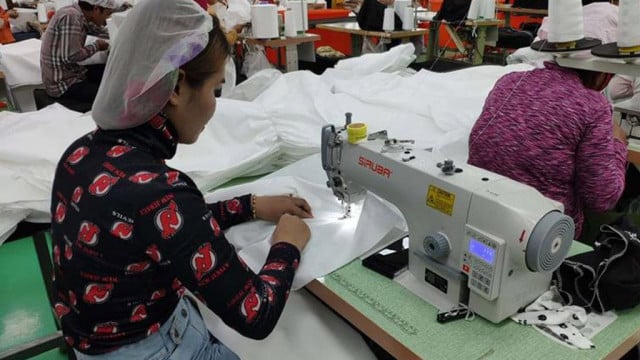 Sao Phal Niseiy
July 10, 2020 11:54 AM
This is part of the ADB program to support countries' efforts to deal with COVID-19
PHNOM PENH—A company based in Cambodia is manufacturing medical supplies meant to support developing countries' efforts against the Novel Coronavirus (COVID-19) as part of the Asia Development Bank (ADB) procurement program.
Around 1.2 million units including personal protective equipment manufactured by the Medtecs Group have been shipped in late June to several developing countries in the Asia Pacific region, according to an ADB's press statement released on July 9.
The Medtecs Group, which has been operating in Cambodia since 1999, has a factory in Kampong Cham Province employing around 5,500 workers, with 82 percent of them being women, the press release read.
As one of the suppliers selected by ADB's Procurement, Portfolio, and Financial Management Department (PPFD), the press release said, "Medtecs was awarded a contract for $5 million to produce protective gowns, coveralls and shoe covers to be distributed to frontline health workers in 11 developing member countries."
This was funded through the ADB's program for Technical Assistance on Regional Support to Address the Outbreak of Coronavirus Disease 2019 (COVID-19), whose $48.3 million funds were mobilized in early 2020.
"The factory has provided stable jobs for people living in the surrounding area, contributing to the local economy, which is especially critical as the country braces for economic impact as a result of the COVID-19 lockdown," the press release said, adding that the company has expanded its production to meet the global demand.
The Medtecs Group currently can produce 8 million gowns, 2.5 million coveralls and 4 million shoe covers; all finished products are inspected by an independent third party before being shipped to the various countries, the release explained.
Jesper Pedersen, ADB PPFD principal procurement specialist, said that ADB is happy to directly contribute to the production and distribution of urgently-needed supplies to different developing member countries.
On July 8, the ADB also approved a $250 million loan to support the Cambodian government's effort to restore its economy, which has been crippled by the pandemic. The loan will help the country strengthen its healthcare system, foster social assistance to the poor and vulnerable as well as provide economic incentives to local businesses, the ADB stated.
Related Articles