Add N. Korean Taekwondo to Games: PM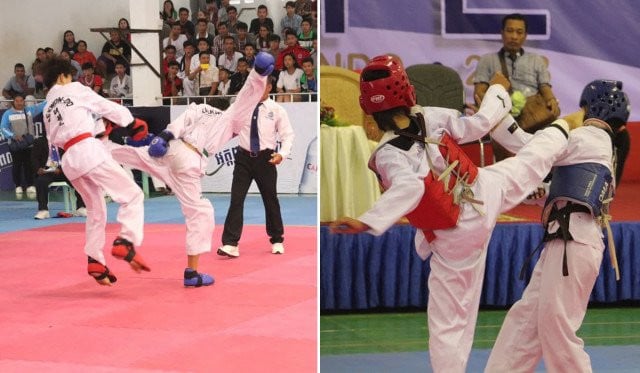 Inclusion symbolizes reunification wish
PHNOM PENH--Prime Minister Hun Sen has told the country's National Olympic Committee to include the North Korean form of taekwondo in the 2023 SEA Games, which will be hosted by Cambodia.
Speaking at an award ceremony on Jan. 5 for gold medalist of the World Petanque Championships 2021 Ouk Sreymom, Hun Sen said the North Korean International Taekwon-Do Federation (ITF) and the South Korean World Taekwondo Federation (WTF) will bring the Korean peninsula together in the SEA Games.
"So put both ITF of North Korea and WTF of South Korea together as a part of efforts to unite the two Korean nations toward national reunification," he said.
Including forms of the martial arts was in line with South Korean President Moon Jae-in's aims of achieving a compromise between the two Koreas before his mandate ends.
"If we want to move towards reconciliation, then we, as outsiders who wish to see a peaceful Korean peninsula, should support these two types of taekwondo to be present in the competition," he added, saying that there would be discrimination if one is added and the other is not.
Hun Sen asked the International Olympic Committee to organize both Korean forms of taekwondo for all competitions, saying if we want to unify Korea and encourage Korea to reunite, the International Olympic Committee should introduce both taekwondo sports.
"South Korea's WTF has already been added. There's only North Korea's to be added. This is my request," he said.
The Prime Minister said North Korean Taekwondo (ITF), managed by Keo Remy in Cambodia, has won many gold medals.
Cambodia needs agreement from other countries to add North Korea's ITF to SEA Games in 2023 but Sports Minister Hangchuon Naron said this had been achieved.
In August 2021, Cambodia won five medals at the 14th ITF Taekwondo World Championships in Bulgaria, taking 14th place for the youth team and 21st for the national team. Pal Chivoan won one gold medal in the individual fifth-dan category. Silver medals were won by Buon Chantharat in the individual 45kg category and by six special performers.
Bronze medals were won in two categories, the four-man group performance and the individual board-breaking for 40 to 49-year-olds.
Cambodia will host the SEA Games in May. No postponement will be possible because of the many events in 2023, such as the National Assembly election.
Related Articles