Additional 35 COVID-19 Cases Found in Phnom Penh and Kandal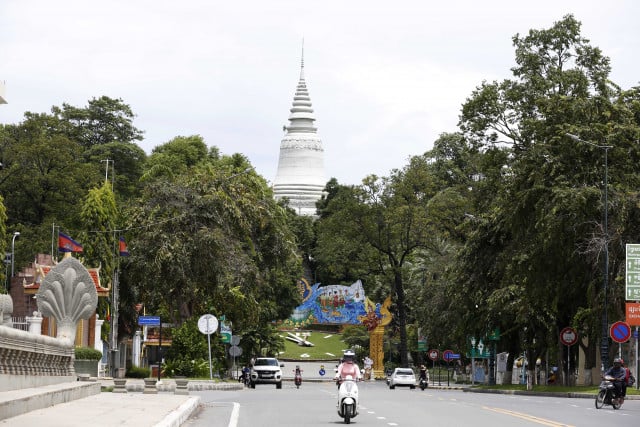 Phoung Vantha
February 22, 2021 4:26 AM
The Feb. 20 outbreak has now spread beyond Phnom Penh, with cases detected in Kandal Province, although 31 of the latest cases are linked to the Feb. 20 clusters, with four more imported cases.
PHNOM PENH--Cambodia's health authorities on Feb. 22 announced that an additional 35 cases of COVID-19 had been discovered, including 31 that were related to the Feb. 20 community outbreak.
The Ministry of Health said that the latest cases consisted of five Cambodian men, five Cambodian women, one Cambodian boy aged 11, along with seven Chinese men, 12 Chinese women and one South Korean man.
Of the 31 cases linked to the Feb. 20 outbreak, 17 are being treated at the National Center for Tuberculosis and Leprosy, while 13 have been taken to Khmer-Soviet Friendship Hospital and one is at the Chak Angre Health Center in Phnom Penh.
The other four cases announced by the Health Ministry today include a 43-year-old Cambodian man who had arrived from Ghana. He has been taken to Chak Angre Health Center while the other 40 passengers aboard the same plane are now quarantining in Phnom Penh for 14 days.
Two Chinese men and one Chinese woman, aged 28, 40 and 29 respectively, tested positive for COVID-19 on their second test after arriving in Cambodia on Feb. 11—all three are now being treated at Khmer-Soviet Friendship Hospital.
In addition to the new cases, two people have recovered from COVID-19, according to the Health Ministry.
While authorities have suggested that a lockdown remains unlikely, the Ministry of Education announced that seven schools across Phnom Penh and Kandal Province will be closed until further notice.
Ros Soveacha, spokesperson for the Ministry of Education, said that the schools are suspected of being affected by the Feb. 20 outbreak and that the ministry will determine school operations based on the COVID-19 situation as it develops.
Likewise, the Ministry of Tourism announced the nationwide closure of all KTVs—late-night karaoke bars—and nightclubs, but it is unclear how long the ban is expected to last.
Hotspots in Phnom Penh believed to be connected to the Feb. 20 outbreak have been announced: the N8 Club, Casa By Meridian, Le Gong Guan hotel, City Comfort, The Bridge, The Point Service Apartment, Mekong Street, Pent House apartment, Skyline Dumex, Somet Condominiums, Residence L Olympic, Price Plazza Centre, Diamond Twin, JinZun KTV, Coco club, JuHao, The World shop, 168 club, Love club, and One Manson shop.
The Ministry of Health urged people who visited those locations between Feb. 6 and Feb. 20 to volunteer for COVID-19 testing at Chak Angre Health Center in Phnom Penh. Authorities called on people to be honest and to get tested if they have had contact with any confirmed COVID-19 patient.
Anyone developing symptoms such as a fever, cough, sore throat or has difficulty breathing should contact health authorities on emergency numbers 115, 012 825 424, 012 888 981 or 012 836 868.
As of Feb. 22, Cambodia has identified 568 cases of COVID-19 since the pandemic began, with 475 of those recovering while 93 remain active cases.




Related Articles