Additional Loan Needed to Wrap Up Sihanoukville Deep-Sea Port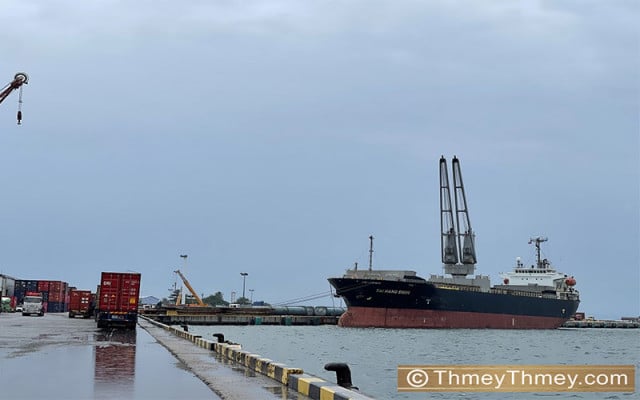 PHNOM PENH – Cambodia has requested a $60 million additional loan from Japan to secure the building of the Sihanoukville deep-sea port, which construction will start in 2023.
The request was made on Nov. 13 in a bilateral meeting between Cambodia and Japan, attended by Cambodian Minister of Public Works and Transportation Sun Chanthol and Mori Masafumi, special adviser to the prime minister of Japan.
An initial loan of $203 million was granted by Tokyo through the Japanese International Cooperation Agency (JICA) in December 2021.
But the depreciation of the yen, which has lost more than 10 percent of its value against the U.S. dollar in the past 12 months, didn't allow Cambodia to meet the budget for the project.
Chanthol thus proposed to the Japanese side to consider providing an additional $60 million in loans to ensure the financial viability of the project.
Phase one of the deep-sea port includes the construction of a 350-meter-long and 14.5-meter-deep dock. As it will increase Cambodia's shipping capacity, it will reduce the cost of freight services by $200 per container, thus improving Cambodia's competitiveness against its regional competitors Thailand and Vietnam.
The port will have a capacity of 60,000 DWT (5,000 TEUs – Twenty-foot equivalent unit, containers measuring twenty-foot long) and will be able to dock 93 percent of all container vessels cruising across Asia, Preah Sihanouk Provincial Governor Kouch Chamroeun said.
"Our port allows about 90 percent of the ships in the Asia-Pacific region to dock. This will make our domestic commodity prices more competitive with neighboring countries," he added.
The current port is capable of handling ships with a draft of only 9.5 meters.
Once the first phase is completed, phases two and three will bring the depth of the seaport to 16.5 and 17 meters respectively.
Chamroeun went on to say that the deep-sea port will allow ships to dock directly from the United States or Europe without having to previously transship their containers in other regional ports.
Since 1999, under the support of Japan, the Sihanoukville Autonomous Port has become a symbol of cooperation between Cambodia and Japan.
The infrastructure plays a vital role for Cambodia as it allows about 60 percent of the total export-import trade volume to transit.
Originally written for ThmeyThmey, this article was translated by Sam Sopich for Cambodianess.
Related Articles
February 23, 2022 7:14 PM