AEON to Use Biodegradable Plastic Bags for the First Time in the Kingdom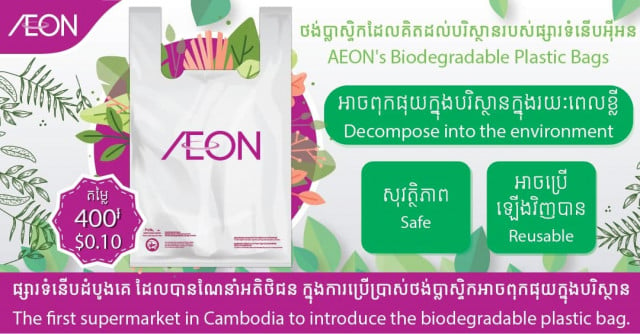 AEON
January 8, 2021 9:08 AM
PHNOM PENH--AEON has just announced a new initiative to help protect the environment, allowing their customers to use biodegradable plastic bags at checkout counter at both of its stores (AEON Phnom Penh & AEON Sen Sok City) and all AEON MaxValu branches. The material is made by adding P-Life "biodegradable plastic additive".
It is based upon oxo-biodegradable technology. It will degrade, on the presence of oxygen, micro-organisms, moisture, and soil which is safe and will help the fight in reducing plastic waste. AEON strongly encourages customers shopping at its stores to reduce plastic waste by starting to use the Eco bag or biodegradable plastic bag for a better environment.
This biodegradable plastic bag will be officially in use from January 11th, 2021 across all the AEON stores.
Mr. Keiji Ono, Managing Director of AEON Cambodia Co., Ltd stated that environmental issues are everyone's problem and require all relevant parties' attention. AEON has been actively involved in various activity to protect the environment; an announcement to use biodegradable plastic bag this time, is a clear example.
In addition, he also mentioned that this initiative will play a crucial role in spreading environmental message to customers and publicity. Moreover, he strongly encourages all customers shopping with AEON, using eco bag or biodegradable plastic bag instead for a better environment.


AEON supermarket (General Merchandise Store) has been created by AEON Cambodia Co., Ltd, operating its business in various categories, such as grocery, food, apparel, electronic items, home appliances and many more at both AEON Malls.
In addition, AEON Cambodia Co., Ltd also operates small supermarkets namely AEON MaxValu (15 branches), Home Coordy, an AEON's Private Home Fashion Brand, and many AEON's private products (TOPVALU) to serve customers' needs and increase people's living standard in the region. Customers can also make an order of more than 20, 000 products conveniently and easily via AEON Online at https://aeononlineshopping.com/
Related Articles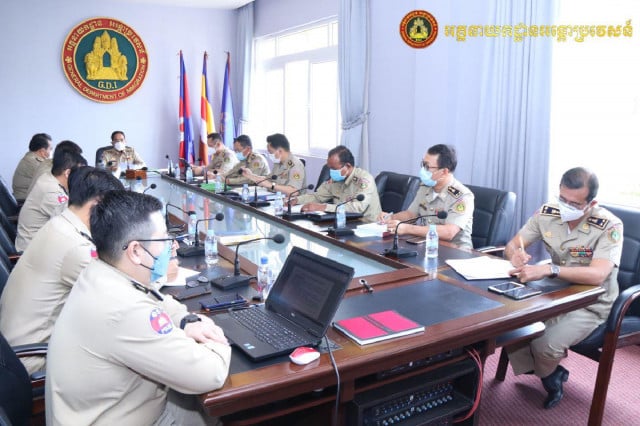 September 1, 2021 1:46 PM