AEON showcases local products to public via Local Products Fair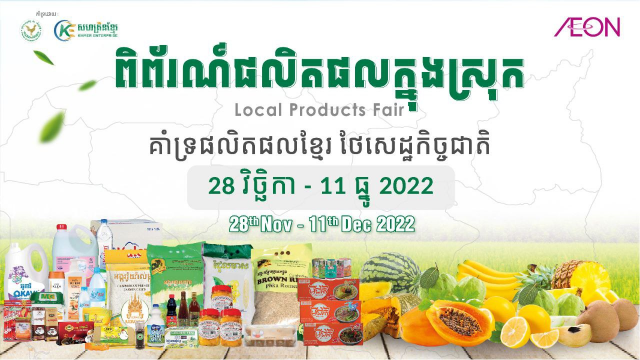 With a strong support and cooperation from the Ministry of Economy and Finance and Khmer Enterprise, AEON (General Merchandise Store) will organize Local Products Fair from 28th November until 11th December 2022 at AEON Phnom Penh and AEON Sen Sok City.

Many safe and standard local products from Kandal, Kompot, Preah Vihear, Kompong Cham, Mondulkiri, Ratanak Kiri and other provinces, such as: grocery, fresh milk, honey, fresh vegetable and fruit, rice and many more will be exhibited during the fair to serve customers' needs.
Beside products exhibition, customers can also enjoy a very special discount on many products, a chance to spin & win prizes by just spending from 15$ per receipt, including many entertained activities.
This 2-week fair aims to advertise local products, increase local farmers living standard and expand local products market wider both at local and international level. This is the fourth time that AEON, with the support from the Ministry of Economy and Finance and Khmer Enterprise, organizes this fair and expected to contribute more to the national economic growth.
AEON continues to strongly support local farmers and advertise local products to the next level. AEON always pays high attention on food safety, quality, service and provide a suitable price to all customers.
AEON is the first general merchandise store in the kingdom that provides a variety of products for daily use, including food, fashion, household items and electrical appliances at reasonable prices and with friendly services. AEON also brought its own private brand products and specialty stores to serve customers' needs such as Home Coordy, an AEON private home fashion brand, iC, an AEON's private inner and sport fashion brand, Kids Republic, a baby, kid and mommy fashion shop, AEON Wellness, AEON Bakery, AEON Bike, TopValu, an AEON's global flagship private brand.
Purchase more products via our AEON Online website: www.aeononlineshopping.com
More information:
Website: www.aeoncambodia.com
Facebook: AEON Retail Cambodia
Telegram: AEON Retail Cambodia
Instagram: aeon_retail_cambodia
YouTube: AEON Retail Cambodia
About Khmer Enterprise
Khmer Enterprise (KE) is established as an implementation unit of Entrepreneurship Development Fund (EDF) to implement the support programs and directly work with partners and beneficiaries. It aims to mobilize, invest and manage resources, from all legitimate sources, to support the development of a vibrant entrepreneurial ecosystem and to provide financial and non-financial supports to related entrepreneurial ecosystem builders. They are entrepreneurs, innovative startups, potential SMEs and partner institutions who participate in promoting entrepreneurial activities driving innovation and value-added creation in Cambodia's economy.



More information:

Website: https://khmerenterprise.info/home

Facebook: https://www.facebook.com/ke.khmerenterprise/

LinkedIn: https://www.linkedin.com/company/khmer-enterprise/
Related Articles