Afghan President Ghani, rival Abdullah ink deal to end political deadlock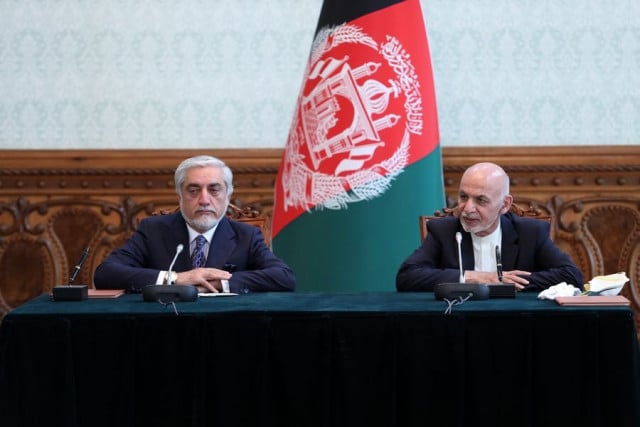 Xinhua
May 18, 2020 3:33 AM
KABUL -- Afghanistan's President Mohammad Ashraf Ghani and his rival Abdullah Abdullah, who also claimed victory in the presidential election, inked an agreement on Sunday to end the political deadlock following last year's presidential election, presidential spokesman Sediq Sediqqi said on Twitter.
Under the agreement, Ghani remains as president and Abdullah heads the High Council for National Reconciliation to lead the peace talks with the Taliban.
President Ghani said in a short speech broadcast on local TV that Afghans are able to settle their differences without mediation of foreign friends, a reference to the 2014 political dispute over election results which was later resolved with the mediation of former U.S. Secretary of State John Kerry.
"I am hopeful the people of Afghanistan will see ceasefire in the coming days and then lasting peace in the country under the leadership of Abdullah," President Ghani said in his address.
For his part, Abdullah said, "Afghanistan has hugely suffered due to war, political instability and now COVID-19, and I am hopeful today's agreement will be the end of crisis."
Abdullah, who served as chief executive in the previous government and contested the presidential poll on Sept. 28, 2019, had challenged the outcome of the vote in which the election commission declared Ghani as winner.
Under the new agreement, Abdullah will introduce members of his team to the president to be included in the cabinet.
Related Articles