Aii Expands Reach to Chbar Ampov: Unleashing Potential in New Horizons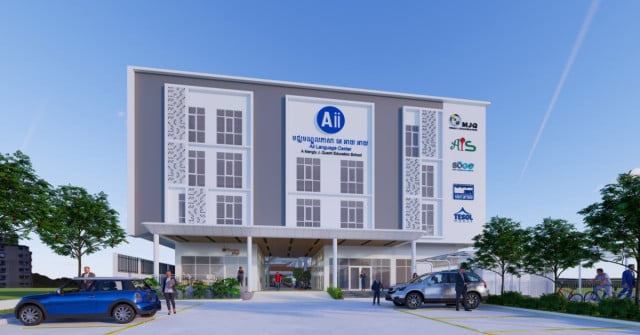 Hailed as the leading and innovative educational center in Cambodia and considered a model for other schools in the country by the US Embassy, Aii Language Center is dedicated to providing quality education to students from diverse backgrounds.
The latest addition to the Aii Language Center family is the Chbar Ampov Campus, which marks the institution's tenth campus. This new campus was established to address the challenges faced by students residing in Khan Chbar Ampov and to meet the growing demand for quality education for the 21st century in the region.
Situated at Phum Ta Prum, Sangkat Prek Eng, Khan Chbar Ampov, Phnom Penh, the Chbar Ampov Campus occupies a substantial land area of 4,533.60 m2.
Equipped with state-of-the-art facilities, the campus boasts a range of amenities, including a welcoming lobby, an indoor park, a computer laboratory, the Intercon Bookstore, Smart mart, a library, a cafe, a playground, and spacious classrooms.
The Chbar Ampov Campus, like all other Aii Language Center campuses, remains committed to its core values of providing students with quality education, fostering discipline, and delivering exceptional services. With campuses strategically located throughout Cambodia, including Mao Tse Tong, Toul Kork, Chak Angre, Choam Chao, Phsar Thmey, Chroy Chongva, Siem Reap, Takeo Province, Siem Reap Province, Sen Sok, and Chbar Ampov, Aii Language Center ensures that students across the country have access to their renowned educational programs.
To celebrate the grand opening of the Chbar Ampov Campus, Aii Language Center welcomes everyone to join on October 27, 2023. This campus expansion promises to be an opportunity for students, parents, and members of the community to explore the campus and learn more about the exceptional educational opportunities it offers.
For additional information and details about Aii Chbar Ampov Campus, please visit their official website at www.chbarampov.aii.edu.kh. Alternatively, you can contact Aii Language Center via phone at 012 908 487 or 016 678 229, or reach out via email at [email protected].
Related Articles