Airavata Elephant Foundation Welcomes First Domesticated Elephant Born in Decades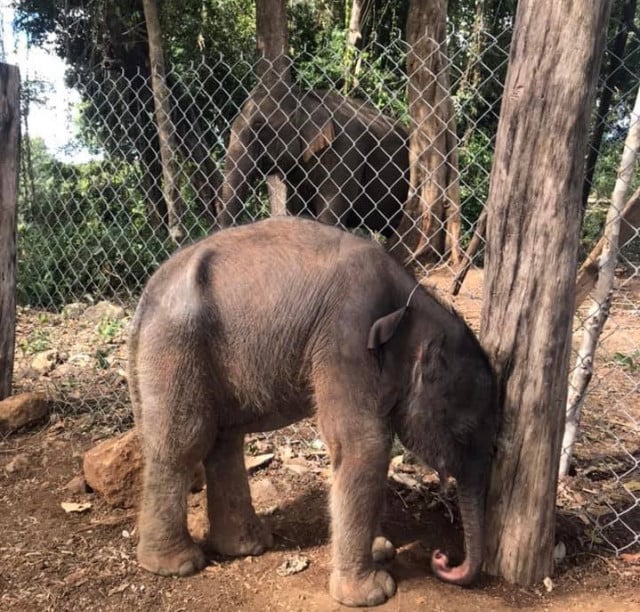 Born one day after Christmas, the foundation has dubbed the newborn female Noel
PHNOM PENH--The Airavata Khmer Elephant Foundation welcomed its first newborn domestic elephant in 30 years on Dec. 26 with the birth of Noel, the baby elephant and daughter of E Keo—the only female elephant in Ratanakiri Province.
Khay Chenda, president of the foundation, said the baby elephant is a great hope that encourages her foundation to continue its efforts to conserve and breed more local elephants.
"Currently, the number of domestic elephants in Cambodia is alarmingly small," Chenda said, adding that the name Noel was chosen due to the elephant being born one day after Christmas.
Noel is healthy and under the care of the Airavata Khmer Elephant team, but the baby elephant is yet to win the love of its mother, she added. Despite being happy with Noel, she said she remains concerned about E Keo, who refuses to accept her child. Moreover, she worried about infectious diseases or viruses that can cause the baby to die quickly.
"We feed Noel with milk and give her love instead of her mother. So, we have to stay close to Noel and E Keo for 24 hours," Chenda said.
Noel needs between 10 and 50 liters of milk each day while her mother requires hundreds of kilograms of food to recuperate from birth, but this will not guarantee that Noel will survive.


Airavata Khmer Elephant Foundation was established in 2015 under the initiative of Khay Chenda, which receives $20,000 annually from the Ministry of Environment and other donations raised from philanthropists.
Chenda said that the foundation has spent more than $100,000 a year to raise elephants, but added that the COVID-19 pandemic has prevented tourists from visiting and killed off one of the foundation's revenue streams.
"Before the COVID-19 outbreak, my team organized an ecotourism package, which means that when tourists visit an elephant, they pay for the elephant, riding the elephant in the forest. So, they helped pay for the tour package," she said.
Neth Pheaktra, spokesman for the Ministry of Environment said that baby Noel was really good news, as there are currently less than 100 domestic elephants and between 400 and 600 wild elephants nationwide.
"It's good news and we've welcomed the baby elephant. The Ministry of Environment has also participated in providing financial support to the foundation to work on elephant conservation," he said.
Currently, there are only four domestic elephants in Ratanakiri Province that live in the area of Ka Tieng waterfall in Lumphat District under the conservation of Airavata Khmer Elephant Foundation.
Among them are two males named Bok Va and Kham Sen, along with female E Keo, who just give birth to Noel. Another elephant, Bak Mai, died of an illness in mid-May 2020.
Related Articles