Amnesty Condemns Forest Activist Conviction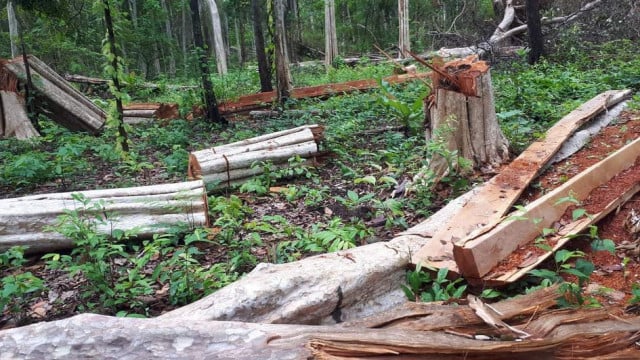 Court accused of taking side of illegal loggers
PHNOM PENH--Human rights organization Amnesty International has condemned the conviction of a Prey Lang anti-logging activist on what are claimed to be trumped-up knife attack charges.
Amnesty says the conviction of Chan Thoeun represents more intimidation and suppression of other environmental activists as the Cambodian government continues to allow illegal logging.
The organization called on authorities to overturn the verdict and allow independent environmental activists to patrol without restriction to look out for illegal deforestation.
Chan Thoeun, a defender of the Prey Lang Community Network (PLCN), was charged on Tuesday with "intentional violence" and given a two-year suspended prison sentence by the Kampong Thom Provincial Court, his lawyer Sam Sokong said.
Chan Thoeun had originally been accused of attempted murder. Sokong said he had asked the court to drop the attempted murder charge. The court decided to reduce his sentence by changing the charge to intentional violence.
"The plaintiff told the court that my client was only about to stab him with a knife," he said. "So, the court decided to change the charge and sentence my client to two years but suspended. There is no compensation required because the plaintiff did not demand any compensation."
Chan Thoeun was initially charged on September 16 after an incident in July last year. While patrolling in Trapeang Tralach village in Kampong Thom province, near the Prey Lang area, Chan Thoeun came across a timber truck with two people, PLCN said.
Chan Thoeun started to take a video on his phone. The truckers tried but failed to take the phone. They then threatened Chan Thoeun and told him to delete the footage of all timber transport activities. The phone was then taken away from Chan Thoeun.
Later the perpetrators accused Chan Thoeun of attempted murder and infringing on their interests. PLCN said this was an act of demoralization caused by hatred for Chan Thoeun and other activists.
Ming Yu Hah, Amnesty's deputy regional director for campaigns, said the charge against Chan Thoeun was unfair and was being used to silence and threaten environmental defenders.
"Time and time again, the Cambodian courts fail to deliver genuine justice in cases involving human rights defenders and environmental activists," Yu Hah said.
"Meanwhile, the Cambodian government continues to trample on Indigenous peoples' rights and allows logging companies to pursue their illegal activities with impunity.
"Cambodia cannot be a responsible climate actor while marginalizing, harassing, and convicting Indigenous and environmental activists in unfair trials.
"Amnesty International calls on the Cambodian authorities to overturn this verdict and to allow independent environmental groups to undertake unrestricted monitoring of illegal deforestation," he said.
Environment Ministry spokesman Neth Pheaktra said this was a conflict between individuals. Any use of violence should be resolved through legal proceedings between both parties. Individual disputes should not be confused with environmental protection efforts.
"Politicization of individual conflicts must not be done for political gain," he said. "Individual conflicts should not be confused with the protection and conservation of natural resources that the Royal Government of Cambodia, relevant ministries and institutions, and partner organizations, and protected area communities are cooperating to protect and preserve."
PLCN representative Hoeun Sophea said unfair lawsuits against forest activists are not only a problem for them but also for the nation. Environmental activists are trying to protect and preserve the forest in Cambodia for the national interest, he said.
"There is not enough evidence in Chan Thoeun's case," he said. "The court only listened to the plaintiff who always wants to win and abuse Chan Thoeun.
"The plaintiff is a timber trader and he is wealthy, so he can use his money to influence the court. The change of the charge is not fair and independent. Chan Theoun is falsely convicted."
Chan Thoeun, who will appeal, says he has fled his hometown in Kampong Thom province for safety reasons. He said the verdict is unjustified and intended to harass him.
"I cannot accept this conviction because I did not commit any crime," he said.
"The conviction announcement is like a death sentence for me. The perpetrators are not convicted, so they can hurt me at any time. The court should not have done this to me. it's very unfair to me."
He said the perpetrator put a knife to his neck during the incident, nearly hurt him, and took away his phone. Chan Thoeun said his human rights have been seriously violated due to his poor living conditions.
"The plaintiff's father is deputy chief of Kampong Thom provincial Gendarmerie. They have power and wealth and they can easily get rid of the poor like me."
When asked why he continues his activism despite knowing that he would in danger, Chan Thoeun said he wants to preserve the dense forest for the next generation and contribute to eliminating pollution in Cambodia. "If we keep destroying the forest, what will we have left for our children?" he said.
PLCN and Chan Thoeun have called on the government to find justice for them and take legal action against the real criminals.
"I request Samdech Hun Sen to help resolve the conflict and I ask for a thorough investigation before announcing any verdict," Sophea said. "Please, do not restrict and discourage the activists who are working for the national interest. The government should effectively intervene."
However, Neth Pheaktra said the ministry was proud to announce that protection and conservation of natural resources in Cambodia had improved. Large-scale natural resource crimes no longer occur. Only small-scale crimes occur because authorities strive responsibly and professionally to prevent forest crimes.
The Prey Lang Community Network (PLCN) said for more than three months in 2020, many cubic meters of timber from illegal loggers in Prey Lang were confiscated and handed it over to professional officers.
On June 21, the Phnom Penh Municipal Court charged four activists with plotting to overthrow the government. These included exiled leader Alejandro Gonzalez-Davidson, Sun Ratha, Ly Chandaravuth, and Yim Leanghy from the environmental group Mother Nature, which was dissolved and stripped of NGO status by the Ministry of Interior in 2017.
In May 2021, three Mother Nature activists were sentenced to between 18 and 20 months in prison for planning to stage a one-woman peaceful protest to raise awareness of the environmental implications associated with filling in Boeung Tamok, one of Phnom Penh's largest and last remaining lakes.
Prior to this, more Mother Nature activists were detained in March 2020 while cycling from Koh Kong province to Phnom Penh to raise awareness of environmental destruction throughout Koh Kong.
The United States on June 17 ended assistance to government entities under the USAID Greening Prey Lang project with $100 million investment as the government continued to silence and target local communities and their civil society partners who are concerned about the loss of natural resources.
Prey Lang is the largest evergreen lowland forest in Southeast Asia, stretching over approximately 500,000 hectares in four provinces, according to Amnesty. More than 250,000 indigenous people live in and around the Prey Lang Forest. In 2016, a large part of the forest was designated as a natural reserve.
Related Articles