Amok Trei/Fish Amok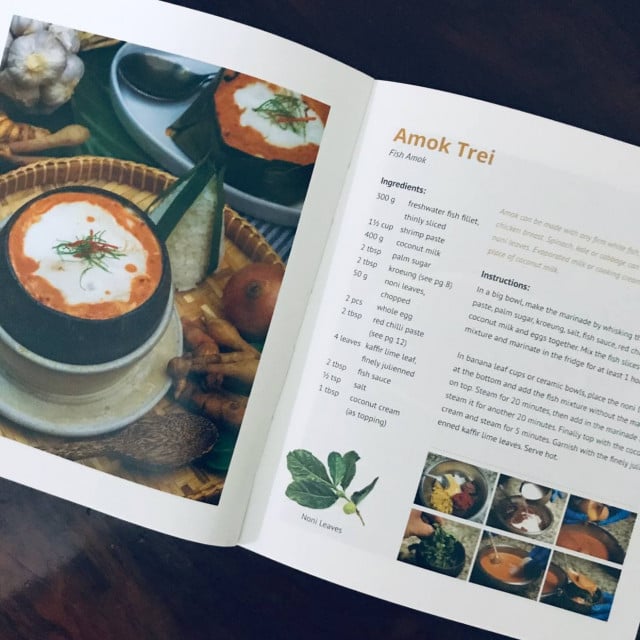 Cambodianess
May 1, 2021 9:18 AM
The Ministry of Foreign Affairs and International Cooperation has released a cookbook "The Taste of ANGKOR" to boost the economy and help diplomats bring Khmer culture to the world. The book which sets out 38 dishes and recipes, including desserts, side dishes and meals. The cookbook is was unveiled at the inauguration of "the Implementation of Economic Diplomatic Strategy 2021-2023"

From now on, Cambodian diplomats will have to add Khmer foods to their programs and their missions abroad, in addition to existing programs such as promoting agricultural products, tourism, investment policy and commercial activities. The cook was dubbed "The Taste of ANGKOR", serve as lesson for Cambodian envoys to promote Khmer culture on international forums.

In contributing for the promotion of Khmer Food, Cambodianess has the honour to introduce Amok Trei/Fish Amok.
Ingredients: 300g of freshwater fish fillet, thinly sliced; 1 and1/2 cup of shrimp paste; 400g of coconut milk; 2tbsp of palm sugar; 2tbsp of kroeung; 50g of noni leaves, chopped; 2pcs of whole egg; 2tbsp of red chilli paste; 4 leaves of kaffir lime leaf, finely julienned 2tbsp of fish sauce; 2tsp of salt; 1tbsp of Coconut cream (as topping)
Amok can be made with any firm white fish, firm tofu, shrimp or chicken breast. Spinach, kale or cabbage can be used in place of t, noni leaves. Evaporated milk or cooking cream can be used in place of coconut milk.
Instructions: In a big bowl, make the marinade by whisking the shrimp paste, palm sugar, kroeung, salt, fish sauce, red chilli paste, coconut milk and eggs together. Mix the fish slices in the mixture and marinate in the fridge for at least 1 hour.
In banana leaf cups or ceramic bowls, place the noni leaves at the bottom and add the fish mixture without the marinade on top. Steam for 20 minutes, then add in the marinade and steam it for another 20 minutes. Finally, top with the coconut cream and steam for 5 minutes. Garnish with the finely julienned kaffir lime leaves. Serve hot.
Related Articles