An Animal Welfare NGO Calls on the Public to Ask for an End to Dog Meat Trade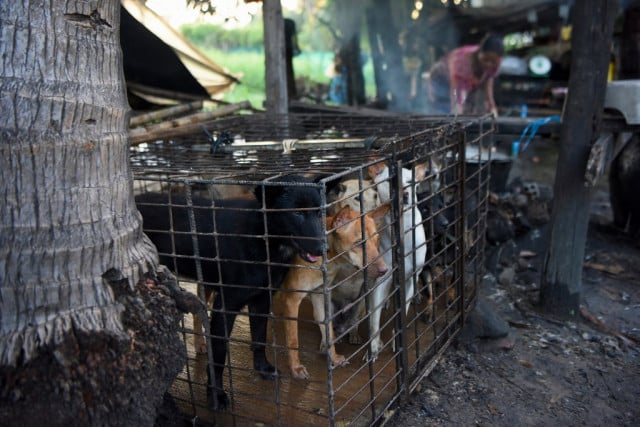 Sao Phal Niseiy
July 23, 2020 4:44 AM
But this will require helping those in that trade to find other jobs, the NGO said

PHNOM PENH—An International animal welfare organization has launched a letter campaign to call on the Cambodian government to officially put an end to the dog-meat trade in the country.

"The purpose of the letters is to encourage the Cambodian Government to take the first steps with the support of international organizations to ban the torture, killing and consumption of dogs and cats," Dallas Buckley, a volunteer administrator at The Sound of Animals Organization, said in an email interview on July 20.

According to Buckley, the "letter flood" campaign began on July 20, the goal being to garner more support letters from the public so they can be sent to Prime Minister Hun Sen later this month.

"We are extremely optimistic that the Cambodian Government will ban dog and cat meat because the COVID-19 coronavirus has caused damage to global economies, including Cambodia," she said. "The Cambodian Government can use this opportunity to call for help from the World Health Organisation to implement a public-health education programme."

Last May, the organization reached out to the Asia for Animals coalition, which resulted in a letter being sent on May 22 to Prime Minister Hun Sen on behalf of 21 prominent animal welfare organizations including Four Paws and World Animal Protection with support from more than 150 network groups, Buckley said. This prompted the Siem Reap provincial authorities to act, banning the dog-meat trade in their area.

The Siem Reap Provincial Department of Agriculture, Forestry and Fisheries on July 6 imposed a ban on all dog meat trade. The province had been known as an area where eating of dog meat is widespread with more than 20 restaurants going as far as putting dog meat on the menu, according to a report by the global animal-welfare organization Four Paws.

Stepping up support for local people in dog trade to switch to other lines of work

Buckley said that her organization would also support the Cambodian authorities' efforts to ensure that people who have been involved in dog slaughtering find other work so they can provide for themselves and their families.

"Last year, The Sound of Animals helped a family transition from slaughtering dogs to running a successful drinks shop," she said. "We know two other families who would like to do the same.

"The Government could help facilitate such schemes," she said.

Because helping Cambodians involved in dog-meat trade switch to other businesses is critical, Buckley said. The organization also is working with the international animal-rescue organization OWAP to raise financial support for local people to close their slaughterhouses and offer them assistance to find alternative employment.

"They [OWAP] are collecting donations to help with funding for rescues in Cambodia, and will be funding closures of slaughterhouses in the future, setting [people] up in new animal-friendly businesses," she said, adding that the donations will also bolster the work by raising awareness in Cambodia.

Need for more support from local people and the media

Besides the letter-flood campaign, The Sound of Animals will continue to work on social media campaign as well as cooperate with other international organization to embolden a ban against dog-meat trade, Buckley said.

"We hope that Cambodian people and influential organisations will step up to petition their Government for change," she said. "Another large charity already has a petition started re: banning the dog meat torture trade in Cambodia, to be handed to the prime minister when enough signatures have been reached."

However, Buckley believes that a swift change will only come about when there is greater participation of Cambodians. "We will continue to work on bringing about change, as we have been doing, but [Cambodian] people need to come on board, I cannot stress this enough.

"If [Cambodian] people take part, this will have a bigger impact on the government, as their own people are speaking out against the trade," she stressed.
Related Articles