An Art Exhibition at Bophana Center Addresses Violence against Women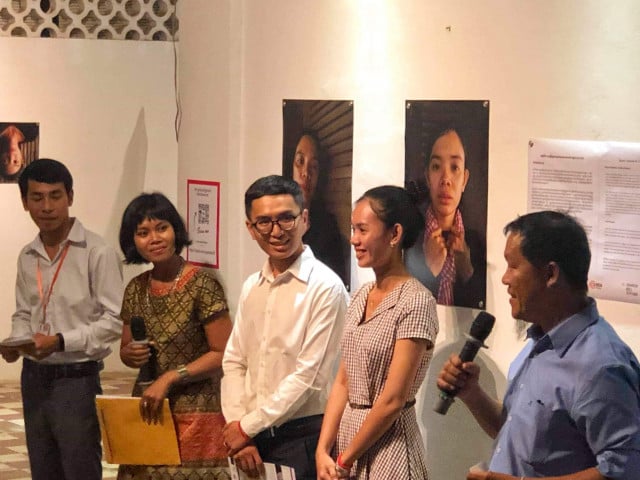 Jazmyn Himel
December 5, 2019 2:44 AM
PHNOM PENH—When artist Tha Linda was invited to take part in the exhibition "Endless Patience" at the Bophana Center, she jumped at the opportunity of doing so. "I always wanted to be a part of social change in Cambodia," she said.

The photo exhibition, which also include the work of artists Khuon Viseth and To Malinda, was to be about gender-based violence. And this soon turned personal for Linda.
"One of my family members is a victim of domestic violence and I feel that when it happened all the stereotypes of a married woman were reflected in her," she said. "I would like to see [women] more free, happy and loved."
Held through Dec. 10, the event has been organized by the NGO Committee on CEDAW (Convention on the Elimination of all Forms of Discrimination Against Women), World Vision Cambodia and the Bophana Center. It also is held at this time to coincide with the "16 Days of Activism Against Gender-Based Violence" held each year from Nov. 25 through Dec. 10.
The photos exhibited are the result of teamwork between the three artists who spent nearly four months discussing and working so that their photos would truly carry the message they meant to communicate which is, Tha said "[to] encourage victims to choose what is best for them.
"We also would like to use this art form to invite the public to join us and talk about this issue of violence so that it's not a hidden issue anymore," she said.
The artists hope that the exhibition will help women, Tha said, "become aware that when they are abused, they can seek help. And we hope that all of us, as a part of our community and society, will also become supportive of the victims."
This is also an appeal to the government for legislation to protect women against violence, she added.
The exhibition runs through Dec. 10.
Related Articles