An Artist Raises Awareness of Environment and Wildlife through his Paintings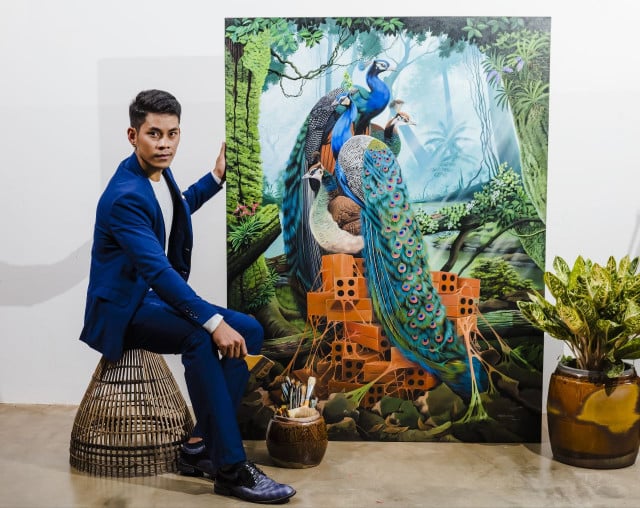 PHNOM PENH — "The wildlife and its habitat cannot speak, so we must and we will," said U.S. President Theodore Roosevelt who created the U.S. Forest Service to protect his country's national forests in 1905. Speaking for them is what artist Chhoeun Channy has meant to do through his series of paintings that quietly show the magnitude of Nature and the urgency of protecting it in Cambodia.

Done in a rather classic way that highlights the beauty of forests and animals—from yellow-cheeked crested gibbons and long-tailed macaques to eld's deers, snakes and birds—his paintings discreetly show how they can be hurt when plastic or other human garbage is thrown out.
In one painting, birds get entangled in a sticky residue on the ground, unable to free themselves of it as they attempt to fly away. In another, a monkey holds a mask that was used by a human being and may carry germs, which could contaminate him.
Because like virtually everything on the planet, this series that Channy has named "The Long Eclipse" was also affected by the COVID-19 pandemic. While he was working on these paintings, he lost one of his art teachers who passed away due to COVID-19. Devastated, he could not paint for several weeks. But then, he said, he started to remember how much his teacher had encouraged him to paint and went back to work.
"There are embedded meanings highlighting the coronavirus [such as] the yellow strings used to wrap around the houses with the COVID-19 patients during the lockdown," he said. "I also include [references to] the red and yellow zones that the government used to designate when Cambodia faced a severe outbreak last year."
As Channy explained, he meant to reflect the struggles the world went through over the past three years due to the global pandemic​ by alluding in nature scenes to the coronavirus, the lockdowns, the pressure on people and the loss of loved ones, he said.
He also wanted to show people Cambodia's nature and the urgency of protecting wildlife as well as forests, the more so that some of the animals such as the yellow-cheeked crested gibbons are endangered, he said.




Painting entitled "Hope" by Chhoeun Channy. Photo: Sofitel Phnom Penh Phokeethra
Completing this series of acrylic paintings done on canvas took Channy nearly three years. He started in 2020 during the pandemic and finished just one month before his exhibition was to open on Nov. 3, 2022, at the Sofitel Phnom Penh Phokeethra hotel.
Environment and nature are Chhoeun Channy's signature
Born in 1988, Channy is the oldest of five children who grew up in a farmer's family as his parents grew rice—his father had been a soldier during Cambodia's years of war.
At first, his parents rented a plot of land to grow rice in Battambang province. In 1998, his family decided to move to a hut built by his father in the forest​ as his father, being a former soldier, was granted by the government a plot of land in Battambang province's Kors Kralor commune in Kors Kralor district near the Pursat province border.
Channy lost one year of formal education since there was no actual school as only 10 families were living there. So, he spent his third grade learning in the shade of trees and at the Buddhist pagoda, his studies being interrupted when it rained.
In 2000, a school was built, giving 12-year-old Channy the opportunity to attend fifth grade. Unfortunately, he had to drop out of school in seventh grade in 2002 to help support his family, his father having gone to work illegally in Thailand like many other Cambodians.
As the oldest child, Channy had to help his mother look after his siblings while his father was away and alone in an unfamiliar land trying to earn money.
His father returned to Battambang after two years of hardship. While Channy wanted to resume his formal education, his father urged him to instead learn a particular skill.
Seeing Channy's talent for drawing, he took him to see paintings in stores. Then in 2006, Channy saw an advertisement for a course on painting that was offered for free at Phare Ponleu Selpak in Battambang City—a non-profit art school that supports youngsters and the local community through outreach and programs in the arts, education, community and social issues.
Channy enrolled at Phare and completed his studies in 2013. "I knew that I liked to draw when I was young," he said. "I drew in the dirt with a stick."
"In the beginning, I thought that I would only paint on the pagoda's wall," he said. "I had never thought that painting is an art that can change the perspective of people and the world. After attending Phare, I realized that the definition of art is broad."
Since moving to Siem Reap City in 2016 and opening the Channy Chhoeun Art Studio, he always incorporates the environment and nature into his work. He says he is reminded of his childhood, living in the jungle and surrounded by nature and the sound of wild animals.
Channy recalls the time when he hunted wild animals, which he says he regrets and has prompted him to take action, small or big, to protect and raise awareness of wildlife and nature as a whole.




Painting entitled "Panick-Buying" by Chhoeun Channy. Photo: Sofitel Phnom Penh Phokeethra
Over the last few years, he has had three solo exhibitions. The first one in 2016 was entitled "Shelter" and focused on excessive plastic usage; the second in 2019 and was called "Out of Control" and was about forests; and the third is this current exhibition "The Long Eclipse."
The environment addressed in the arts triggers action and participation, the artist says
Over the last 10 years, Channy has seen Cambodians young and old as well as foreigners involved in the protection and preservation of forests and wild animals in the country, he said, adding that participation has yet to be more widespread.
He has been thrilled to see young people actively trying to raise awareness for environmental protection and the efforts of the government to protect forests and wildlife during the last few years, he said.
"This is one step toward changing our society when young people know what they should do and what should be preserved and protected," Channy said.
The arts can contribute to slowly bring in fresh ideas among the public and change mindsets regarding certain issues, he said. The arts can also prompt action on particulate social issues, he added.
Environmental issues are a crucial topic to discuss as they can affect all areas of a country if not properly and timely addressed, Channy says. Moreover, he pointed out, Cambodia is an agrarian nation, which is why addressing those issues should be a priority as they could affect not only human beings but also wildlife.
Regarding future projects, Channy is now working on a book that he hopes to have published in 2023.
As to a message he would like to share, he said, "I encourage young people and the next generation to obtain education up to a high level. I hope that not many of them will drop out of school like I did when I was young.
"I also encourage them to contribute and help society, and to get especially involved in protecting and preserving the environment and forests in our country," Channy added.
Chhoeun Channy's series of acrylic paintings "The Long Eclipse" is exhibited in the gallery of the Sofitel Phnom Penh Phokeethra hotel in Phnom Penh until Jan. 31, 2022.




Acrylic painting entitled "Red Zone" by Cambodian artist Chhoeun Channy. Photo: Sofitel Phnom Penh Phokeethra.
Related Articles