An Artist Reflects on Social Issues Brought to Light during the Pandemic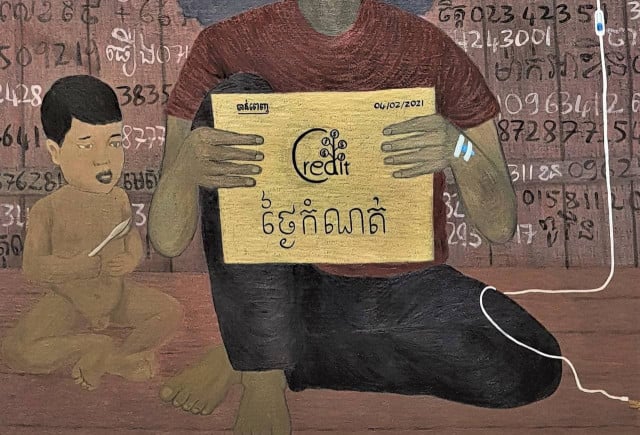 Raising questions, they also call for all to look into possible solutions, he says
While the disruptions COVID-19 caused in people's lives over the last two years have led many to withdraw into themselves, with some people turning numb and others going through emotional turmoil, this led artist Nget Chanpenh to look at Cambodia today and some issues that the pandemic brought out.
"In my previous work, I focused on the internal factors and created artworks based on my story and experiences," he said in interview. "But this time, I get out of the box and observe the surrounding environment and social issues. So, I wonder who causes such issues and whose fault it is."
And this question "Whose Fault Is It" became the theme of his exhibition held at Meta House in Phnom Penh following the opening on Dec. 14.
"Some people were facing difficulties during the COVID-19 lockdown and not many people were talking about it," Chanpenh said. "Some have lost their jobs while others have fallen into serious debt. We, the outsiders, could see it, but we do not know how to help. If the crisis continues to affect the underprivileged people, the Cambodian society will go down."
Born in November 1993 in Banteay Meanchey Province, Chanpenh is one of the artists who studied at the NGO Phare Ponleu Selpak's School of Visual Art in Battambang City. He now is part of the Romcheik 5 group of artists in that city.
In previous series of paintings, Chanpenh had reflected on the personal issues with which he was struggling at the time. His series "Solitude" in 2015 had been inspired by the quote from the Buddha "[m]an was born alone, lives alone and will die alone." And in 2017, he had expressed his 18-month drug addiction journey during which he had lived under the influence of crystal methamphetamine or "ice" in a series he had called "Waiting for the Ice Melt."
In the 15 paintings of his latest series "Whose Fault Is It," Chanpenh describes issues ranging from climate change, social inequalities and land expropriation, to anarchic urbanization, corruption, and debts that may lead some people to suicide: issues that have been aggravated during the COVID-19 pandemic, he said.
And unlike his previous series of paintings, this one was conceived from the viewpoint of an objective observer seeing the callous side of society and wondering who is at fault and who is responsible for what has happened and is happening, Chanpenh said. "The idea for each painting came up when I observed and listened to people," he said.
Producing this series of oil paintings took him nearly two years, he said. Starting in early 2020, he finished in late 2021—just in time for this exhibition—working two to seven days and at times as much as one month on one painting depending on his mood and the amount of information he had on hand, Chanpenh explained.
Asked what he would like to tell people about the issues he reflected in these paintings, Chanpenh said he would like to encourage people to ask questions whenever there is a problem, whether or not they are a part of it. Trying to look into the problem for a solution is always better than blaming someone else, he said.
Following its opening on Tuesday, Dec. 14 at 6 p.m., the exhibition of Nget Chanpenh series "Whose Fault Is It" at Meta House runs through Jan. 23.
Meta House 4.0 is now located at 48 Street 228 in Phnom Penh. https://www.facebook.com/events/915524439084530/?ti=ls
Related Articles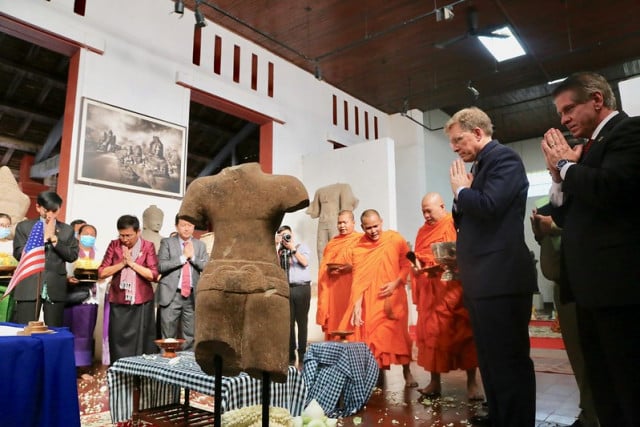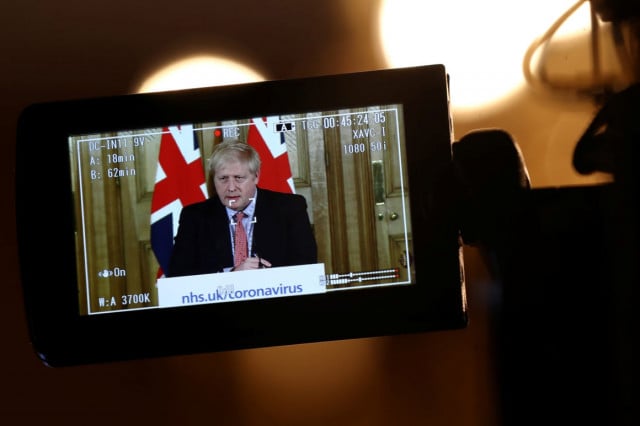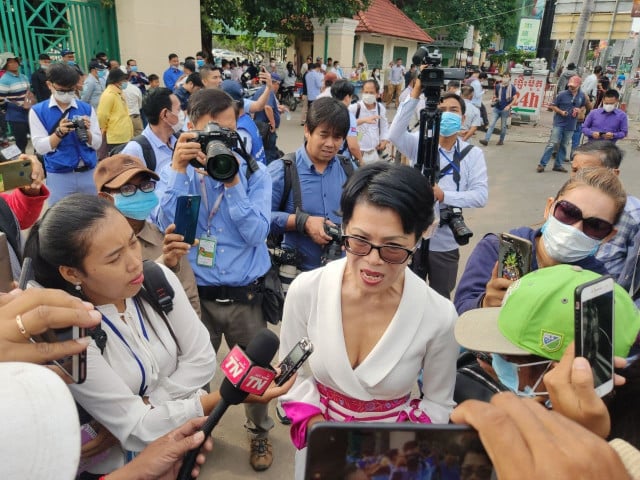 November 26, 2020 11:01 AM