An Australian Navy Frigate Comes to Sihanoukville Port to Bolster Ties with Cambodia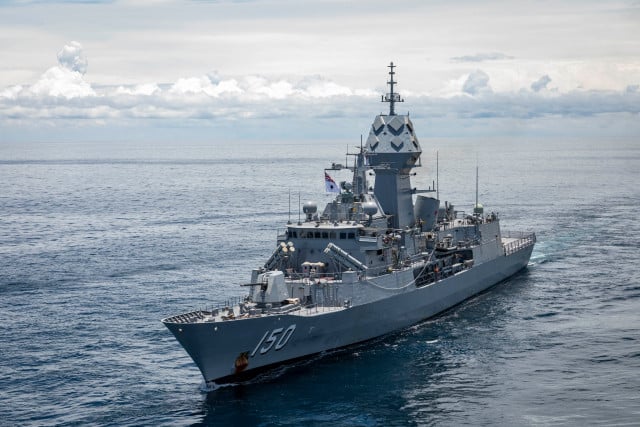 The HMAS Anzac is bringing a shipment of COVID-19 protective equipment
PHNOM PENH--A Royal Australian Navy ship is set to dock in the Sihanoukville Autonomous Port from Oct. 18 through 20 in an effort to increase cooperation in the fight against COVID-19 and strengthen ties between the two nations, according to Australian Embassy statements.
"Excited to travel to Sihanoukville to meet the Australian Navy frigate HMAS Anzac when she docks," Australian Ambassador Pablo Kang wrote on his official tweet. The ship is carrying 800 kilograms of COVID-19 related personal protective equipment to be donated to Cambodia, he added.
According to a statement issued by the Australian Embassy, the visit of the frigate HMAS Anzac is made as part of the Indo-Pacific Endeavour (IPE)—an Australian military program designed to strengthen relations between Australia and Southeast Asian countries beyond military activities.
"The visit will provide an opportunity for the two countries to create practical naval cooperation and exchange ideas on…peace and security through a virtual seminar to be held during the visit," the Australian Embassy statement indicated, adding that visit will be contactless due to the pandemic
The visit of the HMAS Anzac will be the first visit by an Australian navy ship in five years. The previous one had been in October 2016 when the HMAS Warramunga had docked in the Sihanoukville port.
The announcement of the Australian ship visit came following Cambodian Foreign Minister Prak Sokhonn voicing concern over the new trilateral security alliance AUKUS during a phone conversation with his Australian counterpart Marise Payne.
On Oct. 8, Sokhonn told Payne that Cambodia hopes the new trilateral security alliance—which consists of Australia, the United States and the United Kingdom—will not trigger unnecessary and "unhealthy" competition and tension in the region.
Cambodia and Australia established formal diplomatic relations in 1952. However, the relations were cut during Cambodia's decades of war and conflicts in the 1970s and 1980s, and resumed in November 1991. Since then, bilateral ties have significantly expanded.
Related Articles