An Indian Naval Ship Delivers 15 Tons of Flood Relief Material during its Visit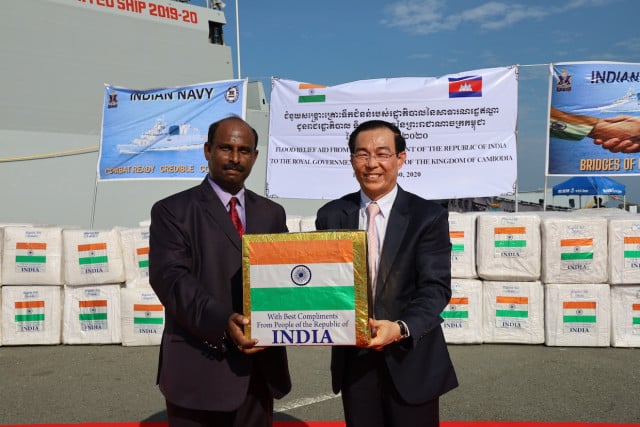 This is part of India's assistance to "Friendly Foreign Countries" program
PHNOM PEN--The Indian Naval Ship INS Kiltan on Dec. 29 delivered 15 tons of material consisting of 3,000 flood relief kits to support people who were affected by the floods a few months ago.
According to a press release from the Indian Embassy in Cambodia, the ship docked at Sihanoukville Port as part of the Indian Navy's Mission SAGAR-III, which is part of India's Humanitarian Assistance and Disaster Relief (HADR) program to friendly foreign countries, the statement read.
The INS Kiltan was greeted in the port by Indian diplomats and Royal Cambodian Navy officials including Commodore In Sokhemara, deputy chief of staff at the Ream Naval Base.
"On behalf of the Royal Cambodian Navy, Commodore Sokhemera warmly welcomed the visit of the INS Kiltan and recalled its previous visit to Cambodia along with the INS Sahyadri in September 2019," the Indian embassy statement read, adding that he also thanked the Indian government for providing humanitarian assistance to Cambodia.

On Dec. 30, the 15 tons of flood relief material were handed over during a ceremony attended by B. Subba Rao, charge d'affaires and second secretary for politics and communication at the Indian Embassy, and Hang Samoeun, permanent vice-president of the National Committee for Disaster Management.
During the event, Rao recalled India's unwavering support to Cambodia not only in good times but also during the difficult periods of its history.
"The assistance in the form of flood relief material is an indication of the importance India attaches to Cambodia as an extended neighbor and a reliable interlocutor, partner and friend," Rao was quoted as saying in the press release.
During the event, Samoeun also evoked the strong bonds of friendship between the two countries, expressing sincere thanks to the Indian government for its support.
This is the second time that India comes to the aid of people affected by the heavy rains of a few months ago. In Late November, the Embassy of India, the Indian Association Cambodia and Indian businesses in Cambodia donated packages including food items and medicine to people who had been affected by the flash floods in Kampong Chhnang and Battambang provinces.

According to a report from the National Committee for Disaster Management on Oct. 23, the heavy rains in September and October 2020 affected 483,140 people of 120,785 families in the country.



More than 110,000 houses and more than 700 schools were damaged while over 230,000 hectares of rice and over 80,000 hectares of mixed crops were flooded, the report read.
Related Articles