Angkor Archeological Park – Keeping the Centuries-Old Tradition in Khmer Home Styles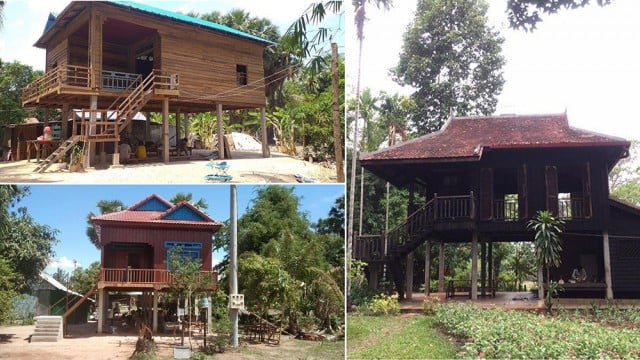 Isa Rohany
June 7, 2020 9:16 AM
Villagers living in the park are required to build homes in line with the spirit of the site
SIEM REAP— Unlike many world heritage sites on the planet, people have been living at Angkor for centuries.
Their villages with their traditional Khmer-style homes may be as old as the monuments, which is why they were integrated into the Angkor Archeological Park when the site became a Unesco's World Heritage site in 1992.
As Unesco notes on its Angkor webpage, "[t]he park is inhabited, and many villages, some of whom the ancestors are dating back to the Angkor period [more than 1,000 years ago] are scattered throughout the park."
But living in a heritage park has come with rules and regulations applying to the construction of homes—such as building with wood in line with Khmer traditional housing styles rather than bricks and concrete—and the size of villages so they do not clash with the monuments' surroundings and the spirit of the site.
And those rules have been more strictly enforced in recent years.
The Apsara National Authority—the government's body that administers Angkor Park—has set up an institution to handle requests from people who wish to repair or build new houses, ensuring that all construction works to be carried out will be done in traditional Khmer housing styles.
"Our traditional Khmer houses are an ancient type of accommodation used by our ancestors," said Sim Bunthoeun, Apsara's deputy head of the Department of Land Planning and Habitat Management in Angkor Park. "They normally have open spaces beneath, and most of them have light structures." Bunthoeun explained in an interview with Cambodianess.
Those homes can easily be built as construction materials required such as wood, bamboo and tree leaves can easily be found near the villages in the park, he said.
"This [light home structure] has several advantages for our Angkor heritage site because building such a house won't require digging deep into the ground, which could damage archaeological artifacts underground," Bunthoeun said. "It requires very high-pitched roof technique."
Those homes are also well adapted to Cambodia's climate and lifestyle, Bunthoeun said. "Our weather is hot. If we build a brick house—with brick surroundings—it doesn't help our daily-living response to the weather. And most of our people do farming and raise animals like chickens and ducks, so it is suitable to have open spaces beneath [houses]," he said. Moreover, he added, "these kinds of houses carry artistic and educational significance [for the country]."
Since the number of homes and growth of Angkor Park villages is limited, the Apsara National Authority has established in the 2000s the Run Ta Ek eco village outside the protected zone in Banteay Srei District. Angkor park villagers willing to relocate have been able to obtain agricultural land and houses in that village.
While following the Apsara National Authority's recommendations for house construction has been mandatory, many people in Angkor Park have started to appreciate the value and meaning of traditional Khmer housing styles.
Ngoeun Sokha, a resident of Kok Chork commune who recently requested a permit to build a new house, agreed that it is imperative that people join hands to preserve traditional Khmer home styles
"I am happy to make a contribution for the conservation of this tradition as a legacy for younger generations for them to know and understand," she said.
As for recent development in architecture in the country, Bunthoeun said that Cambodian designs have significantly evolved over the last decades with both positive and negative outcomes.
Some homes have been built so high that they are in danger of collapsing, and others have sealed the space underneath homes with bricks instead of keeping the space open for air to circulate, he said.
Related Articles