Angkor Builders Urged: Demolish Illegal Structures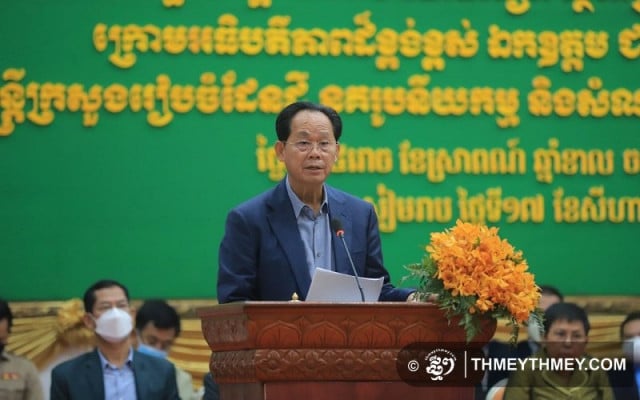 SIEM REAP – Land Management Minister Chea Sophara has urged people who built illegal structures in the Angkor area to dismantle them.
Sophara was speaking on Aug. 17 at the launch of a campaign to determine the extent of plots and illegal constructions created in the Angkor resort area.
He asked those who had put up new buildings to work with the local authorities to dismantle the structures voluntarily and peacefully.
Sophara also spoke of a leaked letter from the provincial administration dated June 27, asking the APSARA Authority to suspend the demolition of 398 new illegal constructions.
Sophara asked provincial Governor Tea Seiha to withdraw this letter as soon as possible and be responsible for this case.
"The governor of Siem Reap must delete letter No. 412. If we were to leave it, it would encourage this widespread and uncontrollable construction," he said.
He said he had come to solve all kinds of problems in Siem Reap but authorities would make arrests of there was any demonstration or protest with axes or knives.
Reports say there are more than 8,000 cases of illegal construction in the Angkor resort area, of which more than 2,000 were in the first six months of 2022.
This was a most embarrassing issue and should not happen, the minister said.
Since 2017, Cambodia had received two warning letters from the UNESCO World Heritage Center about illegal construction but he was optimistic that a third letter would be avoided.
The campaign to identify illegal land use was due to last for 15 days, starting from Aug. 18. Nearly 800 people will take part from the ministry, specialized offices, professional institutions and the Department of Land Management, Kampong Cham, Kampong Thom, Siem Reap, Battambang and Banteay Meanchey.
The working group will inspect houses and land locations in the five cities and districts located in the Angkor resort area, Siem Reap, Banteay Srei, Puok, Prasat Bakong and Angkor Thom districts, with a total of 112 villages.
Originally written in Khmer for ThmeyThmey, this story was translated by Sam Sopich for Cambodianess.
Related Articles