Angkor Sangkran Chases Another Guinness Record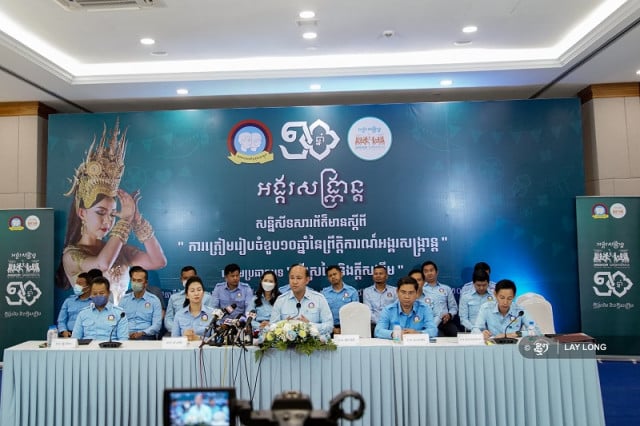 PHNOM PENH – The Union of Youth Federations of Cambodia (UYFC) plans another Angkor Sangkran in April that promises to be bigger than the last time in 2018.
With greater preparation, the UYFC wants to break two more Guinness World Records during the event, Sok Sabayna, chief executive officer of the Angkor Sangkran team said on Dec. 20.
He spoke of the plan at a conference on the 10th Angkor Sangkran preparation under the theme "Dream and Hope," presided over by UYFC director Hun Many. He gave no details of the world record event.
After two years of hiatus due to COVID-19, the resumed Angkor Sangkran was announced by PM Hun Sen in November.
The 2023 event will be arranged in front of the Angkor Wat, the Terrace of the Elephants, Angkor Kyung Yu, Presh Reach Dom Nak Park, Dorng Steung Siem Reap, and Pub Street.
It will run from April 14 to 16 with 44 traditional-modern entertainment programs in other areas. On April 8-9, there will be three pre-Sangkran programs, including marathon running, cycling around the Angkor Park, and a concert promoting SEA Games 2023 within the Angkor area.
UYFC held the first Angkor Sangkran in 2013 to gather Cambodian youth and people to celebrate the Khmer New Year.
The Angkor Sangkran is an annual event for exhibiting Khmer traditions, cultures and the works of Khmer ancients through pictures, traditional and cultural dances, and traditional games and dances representing the lives of people from around the country.
The UYFC holds four Guinness records, the largest sticky rice cake (num ansom) weighting 4,040kg, the largest madison dance with 2,015 participants in 2015, the longest dragon boat measuring 87.3m and the longest hand-woven scarf (krama) at 1,149.8 meters in 2018.
Related Articles