Angkor Wat Causeway Restoration Nears End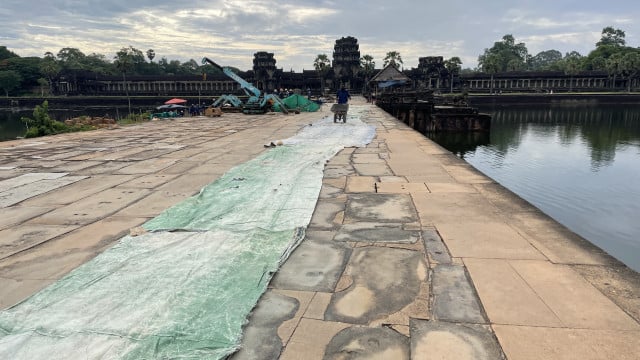 Fragile wall reinforced with concrete
PHNOM PENH – Restoration of a central terrace of Angkor Wat's causeway is about 75​​ percent complete and is expected to be finished by the end of the year, the Apsara National Authority said in statement on July 4.
An Sopheap, an archaeologist in charge of the causeway restoration, said the project, which began more than six months ago, had done a lot of work such as wall installation and compacting soil.
Re-compacting the soil of the foundation of the central terrace was almost done.
The first stage of the project was to study and assess the damage and the restoration methods in 2021. Repairs have taken place this year.
"The central terrace of Angkor Wat's causeway was badly damaged, especially the northern structure. As for the foundation of the causeway and the central terrace, the laterite is very fragile from the first to the fourth layers," he said.
He said the wall on the northern side of the causeway, which was very dilapidated, had collapsed almost completely into the moat. The west and east walls had also been torn apart.
Restoration of the central terrace required some fragile walls to be removed and concrete poured inside to strengthen the walls, he added.
The southern walls are in good condition and had been preserved following the principles of the International Coordinating Committee for the Safeguarding and Development of the Historic Site of Angkor.
The central terrace of Angkor Wat's causeway is 12 meters by 12 meters and has the same shape as the one in the south.
Renovation of the western causeway was completed by the end of 2021. The Spean Harl bridge, stretching about 190 meters, includes two naga-shaped railings and is the main entrance into the Angkor Wat complex.
The renovation project was launched in 2016, with cooperation between the APSARA National Authority and Japan's Sofia University​ with the plan to spend $1,587,000. The Cambodian government will contribute $820,000 with the rest from Japan.
Related Articles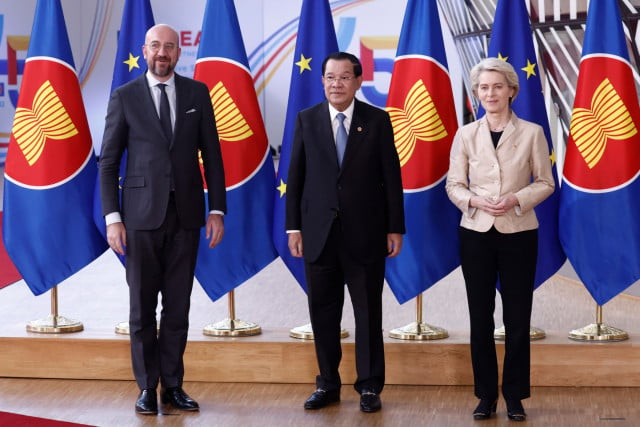 December 15, 2022 12:52 PM