Another Irrawaddy Dolphin Found Dead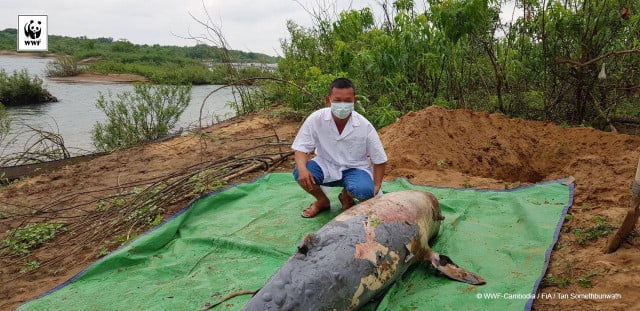 PHNOM PENH—An Irrawaddy dolphin was found dead Tuesday in Kratie province, according to the World Wildlife Fund (WWF).

"This is the saddest news! We lost another dolphin in Kratie," the WWF said on its Facebook page. "[O]ur research team found that the…cause of the death was that its tail entangled with gillnet".
"Illegal fishing nets in conservation zones remain one of the major causes of death of the dolphins," the WWF said Wednesday.
The Irrawaddy dolphins are considered an endangered species with very few of them remaining in the world. This is why last year, the WWF and the Cambodian government celebrated the fact that the number of dolphins had increased from 80 to 92 due to measures taken to protect them.
The WWF last year had noted in a press release that 358 kilometers of illegal gillnets had been confiscated from 2016 through 2018. This was, the release said, "almost double the length of the dolphins' remaining home range."
However, several have died this year in addition to the one found Tuesday. As of July, five dolphins had been found dead, according to a Phnom Penh Post story by Khouth Sophak Chakrya last July.
Related Articles