Another Migrant Worker Catches COVID-19 as Government Donates Supplies to Nepal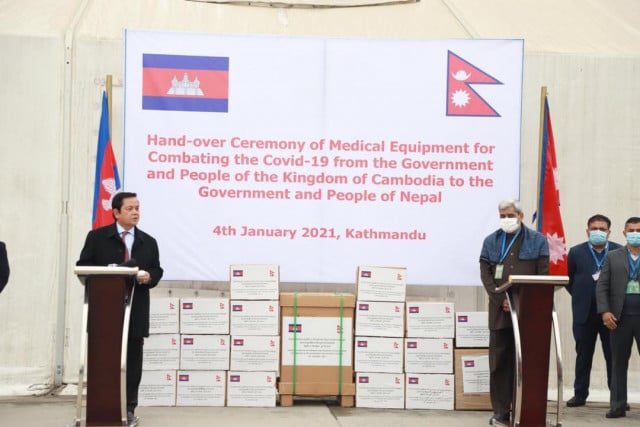 Phoung Vantha
January 4, 2021 9:21 AM
The outbreak in Thailand's Samut Sakhon Province has seen many Cambodians scramble to get home, some of whom have contracted COVID-19, but the government announced it donated more supplies to Nepal.
PHNOM PENH--The Ministry of Health on Jan. 4 announced that a 21-year-old woman who had been working in Thailand has tested positive for COVID-19 upon her return to Cambodia.
She is originally from Pailin Province, but had been one of the estimated 1,440 women returning from work in Thailand to Cambodia. She arrived on Jan. 1 and was quarantined upon arrival before testing positive for the virus on Jan. 4 and is now being treated at Pailin Provincial Referral Hospital.
According to Keo Vanthan, spokesman for the General Immigration Department, between Dec. 20, 2020 and Jan. 3, 2021, a total of 3,616 Cambodians returned from Thailand following the ongoing COVID-19 outbreak in Samut Sakhon Province.
Vanthan also noted that a further 194 Cambodians—69 of whom were women—were handed to Cambodian authorities after attempting to illegally cross the Thai border.
Thailand's migrant dormitories in Samut Sakhon Province have been identified as the source of a second wave of COVID-19 cases on Dec. 18, with infections spreading across 54 of Thailand's provinces—28 of which are now in some degree of lockdown as a result.
A further 745 cases of the virus were discovered in Thailand on Jan. 4 alone, with 577 of them found in migrant dormitories, 152 were locally transmitted and 16 were detected in quarantine centers.
This latest spread of the virus across Thailand has seen numerous Cambodians scrambling to return home and so far 17 Cambodian migrant workers have contracted COVID-19 in connection to the Samut Sakhon Province outbreak.
Those returning are being quarantined in Battambang, Banteay Meanchey, Oddar Meanchey and Pailin provinces.
These latest infections have brought the total number of Cambodia's COVID-19 cases to 382, which include 362 recoveries and no deaths attributed to the virus, although one migrant worker died in quarantine. Authorities have said the cause of death was a heart attack.
Meanwhile, the same day that Cambodia discovered its 382nd case, Prime Minister Hun Sen announced that the government was donating COVID-19 supplies to Nepal.
"Today, the donation of the Royal Government of Cambodia to the Government and people of Nepal, including more than 2 million facemasks and 12 medical pieces of equipment to be handed over to the government and people of this country already this morning, January 4, 2021, at the airport in Nepal," he said, praising Cambodian-Nepalese relations during a difficult time.
The total number of confirmed COVID-19 cases in Nepal, as of Jan. 4, stands at 261,859, but 254,494 people have recovered while 1,878 people have died in connection to the virus.
Prior to this latest donation, Cambodia has gifted a range of medical equipment to Lao PDR, Myanmar and Timor-Leste.
Related Articles