Anti-Corruption Unit Officers to Assist Oversee 'Bac II' Exam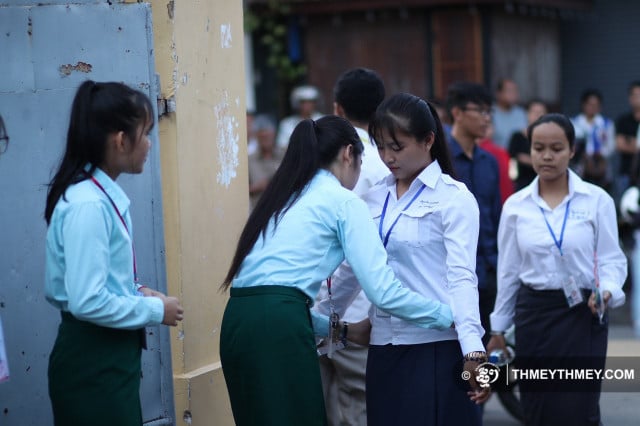 November 22, 2022 6:10 PM
PHNOM PENH – The Ministry of Education, Youth and Sports will once again collaborate with the Anti-Corruption Unit to make sure the upcoming national exam marking the end of high school runs smoothly, without any form of cheating or any corruption of examiners.
The high school national exam will be held nationwide on Dec. 5. A total of 128,134 candidates will be dispatched in 5,174 rooms of 221 different exam centers across the country. Commonly known as "Bac II", the exam is the stepping stone to higher education.
Before the process of the exam got reformed in 2015, bribing examiners or copying from other students was a common practice that discredited the national test.
To ensure the Bac II runs smoothly, the Education Ministry and the Anti-Corruption Unit will join forces to deploy 4,700 people that will support the regular 27,753 examiners who oversee the exam.
A total of 2,700 student assistants – generally future teachers still in their study years – and 2,000 officers from the Anti-Corruption Unit will help oversee the written exams.
At a press conference on Nov. 21, Minister of Education Hang Chuon Naron stressed that 2022 marks the eighth year since the enforcement of the diploma reform that aims to avoid corruption and bribes.
"We will collaborate with nearly 2,000 officers from the Anti-Corruption Unit, which participates in all stages of the exam: from the writing phase to scoring, and the announcement of the results," the Education Minister said.
He emphasized that examiners who misbehave will be punished, following a two-step sanction system, depending on the severity of the misconduct.
The first level will be an oral or written reprimand, with the impossibility of being promoted in the future. Examiners who reach the second step of the disciplinary sanction will not be included in the list for salary increases and will no longer have paid vacations.
Misconducts that are subject to sanctions comprise setting up a bribery network to financially profit from the exam, allowing candidates to copy on each other's work, or helping conceal wrongdoings of candidates during the exam.
Candidates will also get sanctions for misconduct. Candidates who are replaced by someone else will automatically fail and will not be allowed to take the exam for two years. Students who copy another one's work will be automatically disqualified.
Hang Chuon Naron said he had not seen any candidate violate the rules or copy another candidate in the last five years. He urged students to work hard and follow the exam guidelines.
The results of Bac II will be given on Dec. 27 in Phnom Penh and Kandal, and on Dec. 28 for the other provinces.
Originally written in Khmer for ThmeyThmey, this story was translated by Sam Sopich for Cambodianess.
Related Articles