Antique Car​ Tour in the Old City of Siem Reap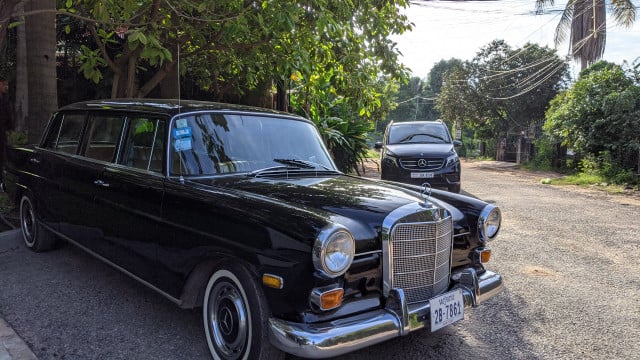 Enabling visitors to explore the city and Angkor Park in the luxury of long ago
SIEM REAP--A hotel in Siem Reap City has been collecting antique cars in order to offer its guests an experience out of a past era while touring the ancient city.
The Viroth's Hotel has so far collected seven cars, which include a 1976 Rolls-Royce Silver Shadow and a 1963 Mercedes-Benz 220SE Cabriolet. The car collection has incredibly appealed to tourists as this postulates a unique experience.
According to Ros Say, general manager of the hotel, this assortment of the old-fashioned cars, which has proved captivating for many guests, actually originated from the hotel owner's fondness for these vintage vehicules.
"It has taken 20 years for us to amass these seven cars, and these are very much precious to us," Say said.


He went on the explain that the collection is also due to the fact that the hotel owner has the aspiration of becoming the person who owns the largest collection of antique cars in the country, and his affection for them is unmeasurable.
"And using them for the travel service for our guests also began from this," Say added.
When asked whether it is much more costly to possess these luxury antique cars, he explained that their price is not necessarily that high but that maintaining them is very demanding.
"I would say the price of these cars is not that expensive and everyone may afford that, but their significance is priceless," he said. "It demands determination to have them because they are old…can break down anytime, just like older people who require to be specially cared for."
Classic car tours can prompt nostalgia for another era
Riding in these old luxury cars in a primordial city like Siem Reap—home to the famed Angkor Wat—might not only be a distinctive experience for many, but also can spark a reminiscence of a time past, according to Tum Narong who has been a chauffeur at Viroth's Hotel for four years.
"I used to drive modern cars for many years to take tourists on tours in this city," he said. "However, driving these classic cars is much more challenging, but frankly gives me an exceptional feeling.
"I really feel tickled, you know, and driving them takes me back to a [another] time, making me feel like I am also an elite," he continued, chuckling a little bit.
Narong said that, based on his own observations, the guests who take the classic cars for sightseeing Siem Reap City or the Angkor Archeological Park have a fascinating experience.
"I can see their expression," he said. "Some feel stunned because it brings them down memory lane [to a time] during which they would not have had the chance to ride such luxurious cars.
"But they can do it now," Narong said.


Related Articles